Objectives attained: Russia withdraws troops from Syria
Comments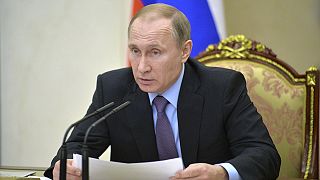 Announcement concerns ground forces
Naval and air support to be maintained
Russia to "intensify" its role in the peace process
The news
The Russian President has ordered his military to start withdrawing "the main part" of its forces from Syria.
The tasks set out by the Defence Ministry have been largely fulfilled
The announcement has taken the international community by surprise.
BREAKING: Putin orders start of withdrawal of main part of Russian military force in Syria from Tuesday pic.twitter.com/ma3pzngWMI

— Reuters World (@ReutersWorld) March 14, 2016
Putin has ordered the start of a military withdrawal from Syria https://t.co/FNXfW3TbsNpic.twitter.com/fs25JUqbFW

— The New York Times (@nytimes) March 14, 2016
Vladimir Putin says the Russian intervention has met its objectives, five months after forces were sent in to support President Bashar al-Assad.
Analysts say Russian support tipped the balance in favour of the Syrian government.
What will happen on the ground?
Assad agreed with Putin on Moscow withdrawing forces from Syria: Kremlin https://t.co/k9r80Elm5wpic.twitter.com/MBLO2uXvlK

—

FRANCE

24 (@FRANCE24) March 14, 2016
The announcement only concerns military support on the ground. Naval and air support will be maintained.
The pullout will begin on Tuesday.
A timeline for withdrawal has not been set.
Putin orders Russian troops out of Syria https://t.co/WwU0QzN5rZpic.twitter.com/RFxsonSXFv

— Mashable (@mashable) March 14, 2016
Russia is a key ally of Syrian President Bashar al Assad. Officials say he is aware of the decision.
What is the context?
Moscow's decision comes as fresh peace talks get underway in Geneva aimed at resolving the Syrian conflict, which began five years ago this week.
Putin has also ordered that Russia intensify its role in the peace process to end the conflict.
What they are saying
US offers cautious response on Putin order for military withdrawal from Syria https://t.co/LkumLuvQ75pic.twitter.com/4EUE8hop4b

—

DAILY

SABAH

(@DailySabah) March 14, 2016
"The effective work of our military created the conditions for the start of the peace process," – Russian President Vladimir Putin says his country's action paved the way for the Syrian ceasefire.