Venezuela: Congress kicks out Maduro's 'economic emergency' decree
Comments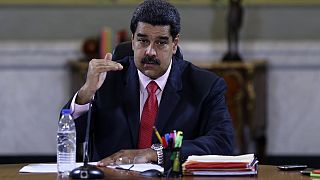 Venezuela's Congress has rejected President Nicolas Maduro's decree requesting emergency powers to address the nation's worsening recession.
The opposition-led Chamber said his measure offered no solutions.
Critics blame the mess on the Socialist Revolution started by Maduro's mentor Hugo Chavez.
"This decree only creates the same fear of expropriations, monetary controls, the freezing of financial assets and endless budgetary control that is just the same old formula that has been implemented for years in Venezuela and has led to the crisis we are in today," said opposition Member of Parliament Julio Borges.
Maduro's decree envisaged wider executive powers to control the budget, companies and currency.
The leader, who succeeded Chavez in 2013, blasted those who kicked it out of Congress.
"Instead of joining in, in a proactive way, during this economic emergency which is a complex and difficult crisis requiring a unified, national effort, they are bent on the politics of sterile confrontation," Maduro said of the opposition which trounced the ruling Socialists last month to win the legislature for the first time in 16 years.
"We must not follow that road."
The oil-producing nation has suffered greatly from the recent fall in the price per barrel.
At the same time, Venezuelans are furious at runaway prices and long queues for scarce products at supermarkets and pharmacies. The IMF has forecast inflation of 720 percent this year.
The IMF sees Venezuela inflation rocketing to 720% in 2016 https://t.co/jEAc5twEXwpic.twitter.com/3QBpiyNrqM

— Bloomberg Business (@business) 22 Janvier 2016