Is Turkey set for constitutional reform?
Comments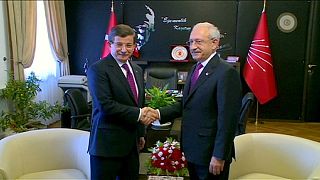 Turkey's ruling AK party and the main opposition CHP have agreed to restart efforts at constitutional reform. A similar cross-party initiative collapsed after two years in 2013, and analysts say the issues that separated them then still apply.
AK leader Recep Tayyip Erdogan wants a more presidential system, one his critics say will favour his authoritarian style.
The EU says it supports any reforms to the 1980 document, drawn up by a military dictatorship, that promote freedom and democracy. There is cross-party agreement in Turkey that it is no longer fit for purpose and needs replacing.
With 317 seats the newly re-elected AK party needs another 13 for a parliamentary majority big enough to take any changes to a referendum. It would need to enlist some opposition support. But it seems unlikely reforms will ever get that far.
Even in 2011 when the first cross-party initiative at reform was taken "red lines" that appear insurmountable appeared almost immediately; fundamental things like the definition of citizenship, or the protection of religious freedoms. It did manage to propose 60 reforms before falling apart, but those disagreements remain utterly unresolved.