Grand Jury clears Cleveland officers of shooting Tamir Rice
Comments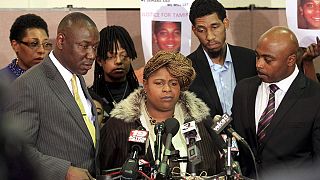 Two Cleveland police officers have been cleared of shooting dead a 12-year-old boy who was carrying a toy pistol.
In November last year the officers killed Tamir Rice, one of several shootings around the same time of unarmed afro-American men by white police officers that built into a nationwide campaign for less racially-biased policing.
The Grand Jury cleared the men after it heard evidence the officers yelled for Rice 
to show his hands and saw him pull a gun from his waistband before one of them fired. The officers also said they were concerned the armed suspect might enter the
recreation center.
Both have been on restricted duty since the shooting and will remain so through an 
administrative review, police said.
Rice either intended to hand over the gun or show the officers it was not real, "but there 
was no way for the officers to know that," said their defence counsel.
The Airsoft replica of a .45-caliber semiautomatic handgun usually has an orange tip on it, 
but Rice's gun did not. Prosecutors showed a standard handgun side-by-side with 
a replica at the news conference.
McGinty also called on makers of replica guns to do more to make them easier to 
distinguish from actual firearms