COP 21 proposed deal to keep temperatures below 2C
Comments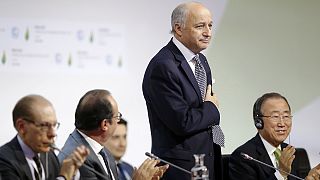 An historic deal, sustainable and for life. The enthusiasm from leaders at the COP 21 climate change conference has been effusive after reaching a landmark proposed agreement.
It comes after two weeks of negotiations as nearly 200 countries attempted to strike the first climate deal to commit all countries to cut emissions which would come into being in 2020.
The text of the final draft agreement has been published and will now be put forward to delegates.
"The proposed draft agreement is differentiated, is just, sustainable, dynamic, balanced and legally binding. It confirms our central objective that it is vital to limit the increase of the average temperature well below two degrees centigrade and to push to keep it at 1.5 degrees which would significantly reduce the risks and impacts related to climate change," France's Foreign Minister Laurent Fabius told delegates to resounding applause.
It's reported one spokesman said positions had "narrowed enormously". It's understood there had been disagreements over how and when to phase out fossil fuels.
Ministers will now decide whether or not to approve the proposed agreement.