Police in Sydney make several arrests connected to possible terror plots
Comments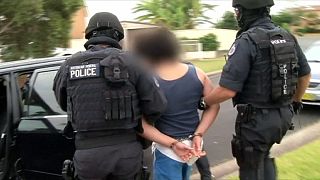 Australian police have charged a 20-year-old man and a 15-year-old boy with conspiracy to conduct an act of terrorism. They were arrested during early-morning raids in Sydney on Thursday morning.
Police say it is part of an investigation into possible plots on government buildings and random attacks on civilians.
Three other men were earlier charged.
The men arrested on Thursday were allegedly involved in "formulating documents connected with preparations to facilitate, assist or engage a person to undertake a terrorist act", said a police spokesman.
Australia, a staunch ally of the United States and its battle against Islamist militants in Iraq and Syria, has been on heightened alert for attacks by home-grown radicals since last year.