France's far right revs up for roaring performance in regional votes
Comments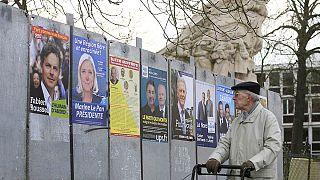 The forecasts for the regional elections to take place in France this Sunday Dec. 6th are fraught with uncertainty.
With the country on security alert, the populist Front National will win the most votes in round one, according to a poll in newspaper Le Monde, 30% under Marine Le Pen's leadership, just ahead of centre-right Nicolas Sarkozy's Republicans.
The Socialists look set to place third, with a 22% share of the vote.
Analyst Dominique Moisi said: "The terrorist attacks on Paris have seen the rise in popularity of the French President, François Hollande, but it's his personality, and it doesn't seem to translate on the popularity of the left at large, of the Socialist Party."
The newest face of the protectionist far-right, Marine's niece Côte d'Azur MP Marion-Maréchal Le Pen, 25, is expected to help it score well.
If the three main parties all contest the second round, the FN is seen winning in the north and southeast and possibly more of France's 13 re-drawn regions.
But the Socialists, who have control of the majority of the regions, could pull out of some Dec. 16th run-offs.
While the ruling party is expected to take a battering in mid-term polls, Socialist Prime Minister Manuel Valls is dedicated to curbing the FN.
Marine Le Pen is seen as a potential winner of round one in the 2017 presidential election.
She would then go up against the former French president Nicolas Sarkozy in the run-off.
This Sunday, the conservatives are tipped to win the Paris region Ile-de-France and three others; the Socialists might keep three.
But the lion's share could go to the far-right.