What is the EU's drive for a circular economy all about?
Comments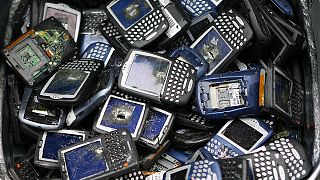 The European Commission is set to unveil long-awaited measures on Wednesday, December 2, aimed at boosting the idea of a circular economy in the EU.
What is a circular economy?
A circular economy is a stark alternative to Europe's current linear model where we take raw materials, make products, consume them and throw them away.
The idea is for products and resources to be kept in use for as long as possible through repair, refurbishing, reusing and recycling.
Do we need a circular economy?
For the first time, a global middle class is emerging. By 2030 it will have more than doubled in size from 2.9 billion today to 4.9 billion, according to to the OECD, a growth driven by Asia.
This, according to Frans van Houten, chief executive of electronics giant Royal Philips, is putting an enormous strain on the environment and its resources.
At the same time, says the European Environment Bureau (EEB), Europe is coming under increasing pressure to maintain the supply of resources needed to power its economy. The continent is, says the EEB, consuming resources at twice the speed the planet can renew them.
The answer, Brussels has come to the conclusion, is to cut down on wasteful consumption patterns by reusing resources.
What could a circular economy mean?
A circular economy could mean new rules for product design, for example to make items more resource-efficient by being longer-lasting and more repairable or recyclable. It may also mean designing waste and energy efficiency out of the product process.
The idea is that products at the end of their lives are injected back into the manufacturing process, by reusing, refurbishing or dismantling and recycling.
For example: mobile phones. UK-based Fonebank buys around 70,000 used mobile phones each month, refurbishes them and then sells them onto emerging markets such as Africa.
It could also change consumers' relationship with products, with firms leasing goods out and then upgrading and refurbishing before sending onto the next client.
What are the benefits?
Some of the benefits are economic, says The European Commission. It claims better eco-design, waste prevention and reuse can bring net savings for EU businesses of up to 600 billion euros.
It adds improving resource productivity by 30 percent by 2030 could boost GDP by nearly 1 percent, while creating two million additional jobs.
Employing already-available design options to extend the lifetime of electronic products could lead to savings of greenhouse gas emissions of more than one million tonnes per year, according to the EEB.
What are the challenges?
The challenge is perhaps whether the market, left to its own devices, is capable of introducing this change, hence the involvement of the European Commission.
Richard Kooloos, head of sustainable banking at ABNAMRO bank, said: "The road to a circular business or economic model is a bumpy one. It isn't free – new wind and solar parks, energy-neutral production and equipment for recycling raw materials cost money. Most companies' reserves can't cover these costs. Investing in new technologies is also quite a bold move, as innovations could prove to be short-lived fads – and that's a waste of money. And high volatility caused by fluctuating commodities prices doesn't exactly make life easy for businesses. Cynics are having a hard time getting on board. Which is understandable, but the optimists among us understand that there are very real benefits to be reaped."
Is this a new concept?
No, not really. China has been putting the idea into practice for at least a decade, while Japan has been pushing legislation on the issue since the turn of the century.
The EU has been talking about a circular economy for years, but without any concrete action, according to the EEB.
The European Commission proposed a legislative package in 2014 aimed at boosting the EU's circular economy. But it was shelved amid the new EC's drive to improve the regulation it put out, with new measures promised for December 2015.
The EEB says the EC has gone back on pledges to make the new proposals more ambitious, claiming leaks of the new legislation show recycling targets will be lower than what was proposed last year.
What do you think of the circular economy? Tell me your experiences or views on this subject by emailing chris.harris@euronews.com