Climate change a difficult topic for G20 summit says Ussal Sabhaz
Comments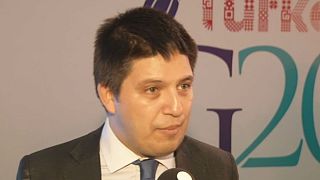 To discuss the results of the meeting of the richest 20 countries in the world euronews correspondent Margherita Sforza talked to Ussal Sabhaz, who is Director of the G20 Studies Centre at TEPAV – the Economic Policy Research Foundation of Turkey.
Margherita Sforza: "The G2O leaders strongly condemned the terrorist attacks in Paris. But what concrete action can they take to reinforce the international fight against terrorism?"
Ussal Sahbaz, Director, TEPAV G20 Studies Center: "So far G20 has not focused on terrorism, it is a new issue and it's very urgent. The G7 used to have a lot of financial tools to fight terrorism, to overcome financial transactions that support terrorists ; but what we see is this is not enough. You have to go to the deeper causes of terrorism, in particular development issues. G20 has so far limited itself only to financial issues."
Euronews: "When we are talking about the recent attacks obviously we are talking about Syria. After so many bilateral talks we have seen at this summit, do you think we are any closer to a diplomatic solution for Syria?"
Ussal Sahbaz: "I think the positions are quite far away from each other but the Paris attacks make it much more urgent, and the G20 has been a very good platform for leaders for coming together. We will see what the results are. So we are closer but it will not be soon."
Euronews: "When we are talking about the Syrian war we are talking as well about the problem of refugees. Now we know that its' a problem that Turkey knows very well because it hosts more than two million refugees. What is the impact of the Syrian refugees on the Turkish economy?"
Ussal Sahbaz: "Of course it's a burden for Turkey, so far the cost is estimated to be five billion US dollars and there are 2.2 million refugees which is a huge number. It is also an issue for Europe. And Europe is reacting a lot. But we have also seen that refugees represent an economic opportunity ; if you look at the statistics last year you will see that one out of 40 enterprises in Turkey was started by Syrians. What they do is to trade with Syria and we have seen that trade with Syria has reached the level before the war. So they (refugees) are an economic beneficiary to Turkey. And if Europe takes a softer position I think they will become a benefit to the economy of Europe."
Euronews: "Does it mean that we have to give the opportunity of work to Syrian refugees?"
Ussal Sahbaz: "The thing that G20 leaders should do is to agree on a scheme that gives them the chance to work legally, formally work when they are settled. Because they are not to go back soon so we have to use them."
Euronews: "The environment is a new issue for the G20, in particular the fight against climate change. Why the G20, why now?"
Ussal Sahbaz,: "Because the environment is becoming a financial topic. It poses a financial risk to insurance companies, to banks, to real companies that operate in the field of gains and losses. What we have seen is that it has been very hard for the G20 leaders to agree on the paragraph (of conclusions) on the climate; and it shows how much these countries are far away from each other in one of the most fundamental issues that the Earth is facing. The paragraph on terrorism has been much easier to write than the paragraph on climate change.