Russia: All-female space crew emerge from moon mission experiment
Comments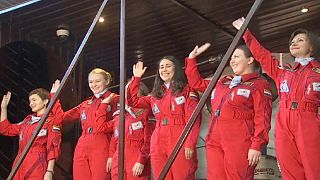 It was 'one small step for man…one giant leap for gender equality' when a team of Russian women emerged
from a mock spaceship in Moscow on Friday, after eight days of isolation.
The six female volunteers – all with scientific or medical backgrounds – have been simulating a lunar flight, with
Russia hoping to send a 'manned' mission to the Moon in 2029.
But back in the here and now they have had to answer questions about coping without men, make-up and whether they got into any cat-fights.
"There was no conflict," said crew member Daria Komissarova.
"And I would like to tell all those writing about us on social media – some were sceptical about our experiment,expecting us to fight with each other – that kind of situation didn't occur."
Researchers though at Moscow's Institute of Biomedical Problems were interested in the effects of confinement on an all-female crew in simulated space conditions.
"Yesterday, we discussed that we had been living in isolation, in a separate world," said crew member Polina Kuznetsova.
"We could hardly imagine that we were in Moscow. We felt like we were, if not in space, definitely in some other place."
The first woman on Earth to fly into space was Russian Valentina Tereshkova in 1963.
#CoolSpaceFacts: The First Woman In Space Was Russian her name was Valentina Vladimirovna Tereshkova pic.twitter.com/A0dDqATpba

— Perth Observatory (@perthobs) 23 Juillet 2015
The first all-female flight to the moon would be an equally out of this world achievement.