Floods in Baghdad threaten Iraq's internally displaced
Comments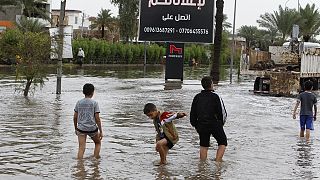 The Iraqi capital's internally displaced have been swamped following heavy rains.
Flood waters are said to have carried away a three-year-old girl from a camp in Baghdad, while at least seven people are reported to have died nationwide.
Many of the one thousand people residing in al Amal camp now find their floors turned to mud. Ahmed Omar is among them.
"This is not fair," he said. "Parliament, officials, government, we are your people. We are your people, You sold us out."
The storm has left the Iraqi capital without a working drainage system, hampering basic services such as the supply of clean water.
Om Omar also resides in al Amal camp.
"We lived through bombings and we came here seeking security," she said. "The government didn't provide us with anything, not even a place to live. These tents are supposed to be new, but living in a tomb would be better."
With cold weather and further rain forecast, Iraq has declared a state of emergency.
But floods and other natural disasters have repeatedly battered the country in recent years, triggering one in a string of debates about infrastructure problems and the management of public funds in oil-rich Iraq.
The same storms have also ripped through Kuwait and Saudi Arabia, where at least one death has been reported.