Interview with Didier Billion (IRIS)about Turkey's future in Europe
Comments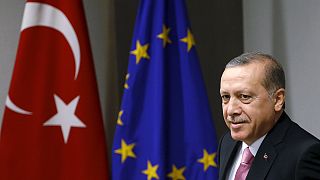 Give and take. After months of blocking Turkey's negotiations to join the European Union and the growing migration crisis, German Chancellor Angela Merkel visited Ankara last week. She offered to help revive Turkey's stalled talks on EU membership, if it helped stem the migrant flow to Europe.
Turkey shares a 900-kilometre border with Syria and has borne the brunt of the migrant crisis by accepting 2.2 million refugees.
The EU said Turkey is key to solving the crisis.
Turkish president Recep Tayyip Erdogan said the EU had woken up too late to his country's importance.
"The West and Europe's security and stability is contingent on our security and stability. They have accepted this now. In the talks held in Brussels last week they accepted all this. If it can't happen without Turkey, why don't you take Turkey into the EU?," Erdogan asked.
With a Turkish parliamentary election in less than a week, it is perhaps a good time for Erdogan to ask that question.
The ruling AK Party he founded is trying to win back the majority it lost in June.
But Turkey was not invited to take part in an EU summit dedicated to solving the migration crisis.
For many Turks, though, travelling to Europe without a visa is far more important than EU membership itself.
Turkey has stressed the importance of securing "visa liberation" for its citizens.
Interview with Didier Billion
Arzu Kayaoglu, euronews: "We're joined from Paris by Didier Billion, co-head of the French Institute for International and Strategic Affairs (IRIS), a specialist on European and Turkish matters. Thanks for being with us Mr Billion. For a few years, we had almost forgotten the question about Turkey joining the European Union. The negotiations stagnated. Now, suddenly, against the backdrop of the migration crisis, Angela Merkel has put the bid back on the table. Do you find this political opportunism or was it already on the European agenda?"
Didier Billion, IRIS: "It is evidently totally linked to the political context and the migratory challenge posed to the EU. The EU finally understands that Turkey is a country that is indispensable for good balance, not only for the management of migration but also for a series of other political questions, and as if by chance Mrs Merkel has taken the trouble to travel officially to Ankara and Istanbul. The timing is regrettable, because Turkey is in an electoral period. Merkel could have waited till the November 1 elections had taken place."
euronews: "Turkey is often criticised about human rights, democracy, freedom of expression. And yet Europe seems to remain inactive in these matters. Has Europe lost interest in these subjects in Turkey?"
Billion: "We can discuss democratic rights, we can discuss curtailment of freedoms. It must be done. Things must not be manipulated. Some people, for instance, say we should break off all relations with Turkey because there are these attacks on human rights. I think that position is totally wrong. It is because there are such attacks that a dialogue worthy of the name must be pursued and relaunched. But we can't have a moral position with regards to Turkey. There must be a political reasoning. That means restarting partnerships, relaunching the negotiation and in that context addressing all questions. I am very worried about the policy that the president of the republic, Mr Erdogan, moved along by getting good economic results in the past few years. He put Turkey on the international map with a lot of positive initiatives for mediation, and so on. Unfortunately, what a waste. Today, Erdogan's rationale is one of confrontation, polarisation, political positioning according to a strategy of tension, and evidently Turkey today is going through a bad time."
euronews: "Is Turkey moving away from Europe in order to be closer to the Shanghai Cooperation Organisation (SCO) and its cooperation with Russia?"
Billion: "No, I think that is an illusion. Mr Erdogan a few months ago did declare that if the EU no longer wanted Turkey then he would apply for membership in the Shanghai Cooperation Organisation, except that the members of the SCO are not at all warm to Turkey becoming a candidate. Turkey can absolutely continue to deal with real dignity with the EU while at the same time pursuing policy on other horizons, towards the Middle East, the Caucasus and Russia."
euronews: "Could the early November 1 election results change the relationship between Europe and Turkey?"
Billion: "Whatever the political configuration of November 2, whatever the electoral balance of power, whatever necessity there is to put together a coalition government, I think it is imperative that real negotiations can restart with the EU. Mrs Merkel said when she was in Turkey that she favoured the opening of several negotiating chapters that have been frozen for several years. Good. I think the relaunch of a real process would help Turkey to surmount the difficulties it is currently facing."