Greek MPs say yes to cash-for-reforms, but not everybody is happy
Comments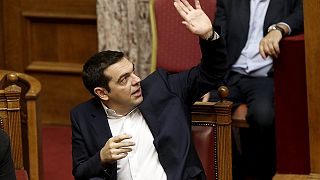 Greek politicians have once again voted in favour of cash for reforms.
MPs in Athens agreed to accept strict new austerity measures on Saturday (October 17) in return for a two-billion-euro installment from Greece's international lenders.
But not everyone is in favour of the cost-cutting plan, which will penalise early retirement and expand a much-despised property tax.
While the vote was happening, some 2,000 people took part in an anti-austerity rally outside the Greek parliament in Syntagma Square.
Stavros Koutsioumpelis is the President of ADEDY, a public-sector union.
"We are united," he saidt. "We, the employed, the unemployed, the pensioners, the SME owners, and the farmers have a hard time ahead, but we will put up a universal front of resistance to overthrow those measures and policies."
The latest measures are Greece's strictest since the crisis began in 2010. Protesters say Prime Minister Alexis Tsipras has defaulted on anti-austerity promises he and his Syriza Party made when first elected in January, 2015.
Panos Kitsikopoulos from euronews' Athens office added:
"What the heads of the unions asked for was rallying and resistance to overthrow the policies. One month after elections which gave Alexis Tsipras and Syriza a majority, not many people turned out for the protest. However, some didn't miss the chance to express their opposition to the strict upcoming measures."
A vote on the next stage of the bailout package will be held at the end of October.