Belarus prepares for a presidential vote the result of which few doubt
Comments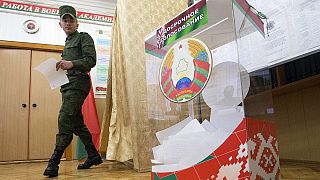 No prizes for guessing who the likely winner in this Sunday's presidential elections in Belarus will be. Alexander Lukashenko looks set fair for a fifth term as president, as the man sometimes styled "Europe's last dictator" enjoys widespread popularity at home.
This is partly because he has delivered GDP growth every year but one he has been in office, although critics say it is all about his total control.
"It doesn't matter to Lukashenko how we vote. As Stalin said it is not important who votes and how they vote, what is important is who counts the votes. And I think that is the case here. I don't think we can expect any surprises and everyone thinks that what is happening in Russia and Belarus, will unfortunately continue for a very long time," says the 2015 Nobel Literature prize winner Svetlana Alexievich.
That economic growth is now slipping, but once-large protests against Lukashenko are now small and rare. He has proven to be a master at playing Russia off against the West to get the best possible deal for his country, and fended off the instability that has hit other former Communist states.