Glum Greeks prepare for Sunday's general election
Comments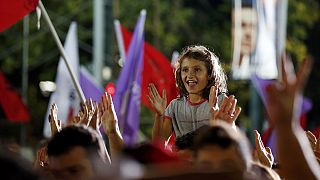 For the third time in nine months the Greeks are being asked to take their future in their hands in Sunday's general election amid signs of voter fatigue, and opinion polls suggesting an indecisive result.
The governing Syriza party has a lead of between 0.8 and 3.0 percent, well within the margins of statistical error, so the opposition New Democracy conservatives are snapping at their heels and could be on their way back to power.
"It would have been better not to have these elections. Three elections within the same year is quite hard on the people but as a citizen I will do my duty and let's see what happens," said one man.
"I'll definitely vote although I would have preferred not to have to. We need to live peacefully in this country, to have jobs above all, and whoever gets elected must look after the health sector," said one woman.
"We don't know who to vote for. Unfortunately, we are old people and we try to support the young generation, but unfortunately they are all going abroad," said another man.
The result hinges on undecided voters, polling from 10 to 12 percent, with the extreme-right Golden Dawn looking to take third place with around 6 to 7 percent. Whoever governs will have to do so in coalition, and enact 15 major reforms in the next two months at the demand of international creditors.