West 'can talk to Assad about leaving, with Russia's help'
Comments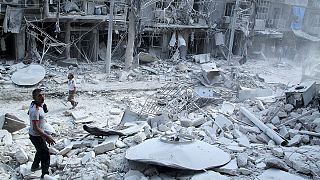 Steffan Mistura, the United Nations envoy to Syria, has arrived in the capital Damascus to discuss a peace plan.
Now in its fifth year, the Syrian Civil War has seen over four million people flee the country and left almost twice as many internally displaced.
Europe is in the throes of an unprecedented migration crisis due, in part, to the number of Syrians seeking safety. The continent's leaders are pursuing a political solution to the conflict, which could even include a compromise with Syria's President Bashar al-Assad.
Assad has reportedly begun using new types of air and ground weapons supplied by Moscow.
The West has expressed concern about Russia's involvement in Syria. Along with Iran, it has ramped up military support to the Middle Eastern country. Moscow says its assistance is aimed at fighting terrorism and preventing a "total catastrophe in the region." However, the West has said it could have the opposite effect and possibly fan the flames of the conflict.
We asked Hasni Abidi, head of the Geneva-based Study and Research Centre for the Arab and Mediterranean World, for his insights.
Sophie Desjardin, euronews: "Mr Abidi, Bashar al-Assad granted several Russian media an interview yesterday. He talked about the migration crisis in Europe and made this terrible remark: 'It is as if the West is shedding tears for the refugees out of one eye and aiming at them down a gunsight with the other.' apart from that being provocative, is the West caught in a trap with this war?"
Hasni Abidi, President, Study and Research Centre for the Arab and Mediterranean World: "It's more that the West is at an impasse with a major migration flow, which sometimes can be a threat, but before anything else it is an aspect of countries' internal politics. Assad is using the same rhetoric, trying to confront Europe, telling them this migration is their fault and saying 'you fuelled this war'. But he's forgetting that this refugee crisis and the internally displaced people or those who are in neighbouring countries all began a long time before Islamic State founded itself."
euronews: "Assad accuses the West of having created Islamic State, and yet if the jihadists hadn't appeared on the scene, and the equation on the ground had been one of pro- and anti-Assad, wouldn't his regime have fallen a long time ago?"
Abidi: "That is very hard to say. The regime has expanded its support base and it did something that works very well, and that is to demonise the opposition, which at the beginning was a peaceful one. What's more, it didn't demand the departure of Bashar al-Assad, it wanted reforms. It was the regime that made the opposition radical — first it was made up of secularists. When it became clear that it was well organised and had a social project to build a different Syria, with a pluralist constitution, of course he played the terrorism card. Islamic State fed off the Syrian regime. It is Assad's machine that fostered the Islamic State threat, because the failure of the moderate opposition led people to join or to support probably what was another far more radical opposition, especially in the face of the international community not caring, or its impotence."
euronews: "Is there any way to stop this war, which has been going on for over four years, without supporting the Syrian government?"
Abidi: "Assad has managed to pull off a major bit of blackmail: you'll be safe if you support my regime. I believe that the first and second United Nations efforts in Geneva deserve a lot more support. There can be a political transition, we can talk to Bashar al-Assad about his leaving, but not about keeping him there. That is why Iran offers an opportunity to seize, and also Russia. Unfortunately, the opposition of any kind today is practically orphaned. This conflict, failing the political will and commitment, I believe is going to be with us for some time."
euronews: "Russia crossed that line a long time ago, quite openly — both diplomatically and militarily. Do you think that the fallout from this war that we're getting in Europe could now play in favour of Moscow's [pro-Assad] recommendations?"
Abidi: "I do, absolutely. That is what President Putin is playing at. Assad is a very important card in Putin's relations with the Americans and the Europeans. He is ready to let go, providing negotiations with the West ensure his other interests. That is why it is so important to start talking to Putin again, and also with the Iranians, and all the countries that still support Assad. Russia and Iran's open support today shows that both those countries want to play the Syrian card, to use Assad — not only where Syria is concerned but also because there are strategic interests that go far beyond the Syrian conflict."