Ukraine Right Sector rallies against government in Kyiv
Comments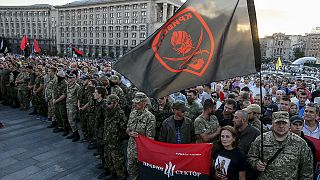 Hundreds of Ukrainian right-wingers have rallied in Kyiv to protest against government policies. It comes in the wake of a deadly standoff between radical nationalists and police in the west of the country.
The Right Sector was one of the strongest forces in the protests which led to the ousting of ex-president Yanukovych, the leader of the group said,
"We see that the Yanukovych system has been transformed," explained Dimitro Yarosh, Right Sector leader. "Nevertheless the main problems of our society like corruption, the lawlessness of the prosecutor's office and the police are still the same. And we are still protesting against these things. We think that the new Ukrainian state should be built on other bases".
Right sector militants are actively fighting in the east for the government. However, Amnesty International has accused them of human rights abuses, they claim they are clamping down on corruption. Euronews reporter Sergio Cantone in Kyiv said:
"The Right Sector says it wants to organise a referendum against the government because it wants to appear politically active and ready to challenge a government that didn't live up to expectations, after many months of fighting in Eastern Ukraine."