Suruc suicide bombing: Turkey 'identifies suspect' in ISIL-claimed attack
Comments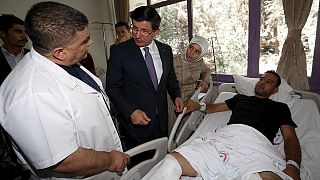 On July 20, 2015, a group of young, political activists in the southern Turkish town of Suruc posed for what may have been their last photos.
Just moments later, a blast would tear through the gathering, killing at least 32 and wounding more than a hundred.
The self-proclaimed Islamic State group has claimed responsibility for the attack.
Turkey's Prime Minister Ahmet Davutoglu says a suspect had been identified and his international and domestic links are being investigated.
However, Selahattin Demirtas, the co-leader of the pro-Kurdish HDP Party was sceptical of authorities' reactions:
"Recent history in Turkey shows us that those responsible for massacres in which the state played a role, which were carried out with support from within the state, have never been caught. Our recent history is full of numerous examples of this," he told the press.
HDP leader Demirtaş calls Parliament to convene for urgent session over #Suruç attack http://t.co/23YiaDlnZQpic.twitter.com/SwPQkVhrO7

— Today's Zaman (@todayszamancom) July 21, 2015
Suruc lies ten kilometres from the Syrian border, which hosts several ISIL-held territories. NATO has been pushing for tighter border controls between the two countries.