Burundi: President seeks third term in highly charged vote
Comments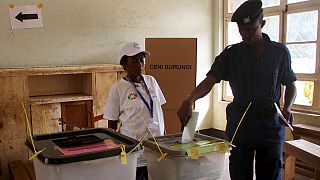 Burundi 's government is pushing ahead with Tuesday's controversial presidential election despite opposition calls for voters to boycott it.
We could see in Burundi an escalation in the country and ....a full on civil war
Hours before the poll gunfire was heard in the capital Bujumbura.
Incumbent President Pierre Nkuranzizi is seeking a third term despite the county's constitution stating there's a limit of two.
The Constitutional Court has however backed his argument that his first term in office did not count towards the two-term limit, as he was elected by MPs.
"In Burundi, President Pierre Nkurunziza's Push for Power Is Marked by Bloodshed" by MARCSANTORA via NYThttp://t.co/Tf0dvfJxQP

— Miroslav Georgiev (@mirogeorgiev97) July 20, 2015
But his decision to stand has plunged the country into its worst crisis since an ethnically charged civil war in 2005.
Researcher in conflict and risk analysis at the Institute for Security Studies (ISS), Yolande Bouka had a clear warning:
"What's most concerning is the fact that there is an armed opposition which is now launching an insurgency against the government and should the military of the Burundian army split, fracture and see some of its members join the insurgency, we could see in Burundi an escalation in the country and possibly the breakout of full on civil war."
Though street protests and a would-be coup were quelled earlier this year, there has been almost daily violence in recent months.
Tensions in Burundi have forced more than 100,000 people to flee this year.
The African Union (AU) has stated it is not sending observers – the first time it has taken such a stance against a member state.