And also... stories from around the world you may have missed
Comments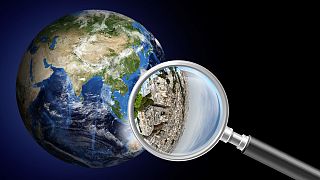 Every Friday journalists from euronews' various language teams choose a selection of stories from Europe and beyond which did not reach the international headlines.
Greece: smartphone app shows which
ATM

s have cash!

A new mobile app was released, informing Greeks which ATMs are convenient to them, whether they have available cash at the moment and whether they dispense 50 or the now scarce 20 euro bills.

Dimitris Chatzieleftheriou, who developed the application along with Haris Spentzas and Christos Kritikos, explained: "Our idea had come from the very first days of capital controls. It was not technically difficult and took us one or two days to develop. The most demanding part was to find all ATMs in Greece and register them."

The application is relatively simple and is based on the feedback of users themselves.

"With two clicks you can update all application users that there is money in the machine and if it has 20 euro banknotes or just 50 euro banknotes," said Chatzileftheriou. The user can find out information such as "the specific ATM had 20 euro notes 15 minutes ago."

The application is available on the Android platform only. "Apple's App Store requires a few more days to get approval and uploading," Chatzieleftheriou added.
Nuclear humour on Iranian social networks
Iranains celebrated the deal with world powers in the streets, but also on the internet. Israeli PM Benjamin Netanyahu was the "star" target, especially his famous photo with the bomb and the red line at the UN.
A smiling JZarif</a> on <a href="https://twitter.com/hashtag/Netanyahu?src=hash">#Netanyahu</a>&#39;s bomb from Bozorgmehr Hosseinpour on <a href="https://twitter.com/hashtag/IranDeal?src=hash">#IranDeal</a> v <a href="https://twitter.com/mh_nejati">mh_nejati#Israel#Iranpic.twitter.com/0Jxuyg3rnJ

— Joseph Willits (@josephwillits) julio 14, 2015
:)))) pic.twitter.com/p6T966xXVr

— aida p (@Aidapeighami) julio 14, 2015
فاتحان هسته ای ایران #روزنامه#IranDeal#IranWinsPeace#جارpic.twitter.com/eRO8HfZmly

— Jaaar | جار (@jaaardotcom) julio 14, 2015
Thumbs down to British diplomacy
The British Foreign Secretary put months of delicate nuclear talks at risk when he showed his approval for finding the elusive deal with Iran this week. Throwing the thumbs up sign to photographers, little did he realise that this gesture is the equivalent of the middle finger for his Iranian counterparts.
There's something very wrong with this picture of Philip Hammond http://t.co/6RB4eemLC4pic.twitter.com/2xAU9NkXFf

— i100 (@thei100) julio 15, 2015
Spanish singer's private concert for 380 embryos
Antonio Orozco has given an exclusive concert for 380 embryos at a Barcelona laboratory. He sung to the incubators as a part of a research programme on the positive effects of music in embryos and foetus development, based on the conclusions of the study "Impact of exposure to music during in Vitro culture on embryo development", presented two years ago at the European Society of Human Reproduction and Embryology.
Despite the serious nature of the project it sparked many mocking comments on the social networks.
Hemos hablado con Antonio Orozco para que nos explique cómo ha sido tocar ante 380 embriones http://t.co/hVCmU2bw8cpic.twitter.com/SuRmVpMTBz

— Tentaciones (@tentaciones) julio 12, 2015
What is it like to be gay in Moscow?
This year has seen voters in Ireland approve same-sex marriage in a referendum, and the US Supreme Court rule that all states should recognise it.
Attitudes towards homosexuality in Russia however have become far less tolerant. Britain's Daily Telegraph highlighted what happened in Moscow when two men held hands in a "social experiment". The video went viral.
You can see the full video here:
SOURCES
http://greekreporter.com/greek-app-shows-which-atms-have-cash-during-capital-controls/
http://observers.france24.com/fa/content/20150714-iran-deal-nuclear-social-media-nazeran
http://i100.independent.co.uk/article/theres-something-very-wrong-with-this-picture-of-philip-hammond—Wkg65GmfeQe
http://ccaa.elpais.com/ccaa/2015/07/09/catalunya/1436442183_394041.html