Saudi-led bombardment of Yemen "kills 20" Houthi fighters
Comments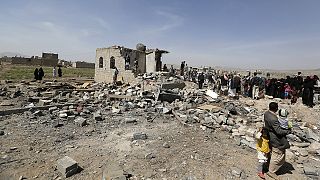 Around 20 Houthi fighters were killed after Saudi-led coalition air strikes shook the Yemeni city of Aden and the capital Sana'a to the north, witnesses say.
Sources say the Houthis were killed when their military convoy was transporting an artillery piece to Aden.
Witnesses to Sana'a's air raid claim the rockets had hit three homes killing eight, all women and children.
Local resident Hamed Ali witnessed the strikes: "There are eight casualties and in the hospital six wounded," he said. "What fault is it of theirs? Are there any missiles here? Are there any military sites here? Are there any explosives here? There is nothing here. He sells ice cream."
The UN Security Council has said at least 2,000 people have been killed in Yemen since March 2015 and has appealed for a humanitarian ceasefire, in a bid to end the fighting.
The Sunni Arab states see the Houthis as a proxy for projecting the power of Iran in the Arabian Peninsula.
Yemen's exiled government in Saudi Arabia has said the Houthis must recognise its authority and vacate Yemen's main cities before peace talks can begin.
Although the Saudis are leading the air strikes they are also sending in tonnes of much needed aid.