Syrian rebels seize last city in Idlib province, eye Damascus
Comments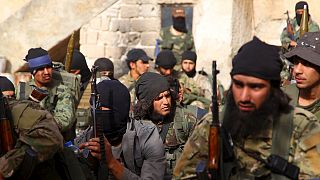 Nusra Front, the Syrian affiliate of al Qaeda, said on Thursday it had taken over Ariha, the last city in the northwestern province of Idlib that was still held by the government.
The mission of Nusra Front in the Levant is to topple Assad's regime and all its symbols
The Sunni Muslim rebel group said it had overrun several checkpoints that defended the city, though Syria's state army claimed the fighting was ongoing.
Nusra Front is the most powerful faction in Syria opposing both President Bashar al-Assad and the Islamic State militant group. In recent weeks, it has made gains in northwestern Syria, near the Turkish border, alongside other insurgent groups.
Nusra Front is now determined to seize the capital Damascus, its leader Abu Mohammad al-Golani said in a rare interview with news channel Al Jazeera this week.
"The mission of Nusra Front in the Levant is to topple Assad's regime and all its symbols – its allies, I mean – such as Hezbollah and others, and to coordinate the establishment of a mature system of Islamic rule of law that Muslims can enjoy," Golani said.
It was not clear where the interview took place and Golani's face was not shown. He sat on an ornate chair opposite the interviewer with his back to the camera.
Syria's ambassador to the United Nations said the interview was an attempt by Qatar to whitewash the image of what he called "terrorist" groups.
"Did the Qatari channel Al Jazeera not broadcast an interview yesterday with the leader of terrorist group Nusra Front, al-Golani, to herald that Syria will be governed by Sharia Law? And so Qatar can tell us with this interview that the terrorist group Nusra Front is a moderate terrorist group," said the Syrian envoy, Bashar al-Jaafari.
Sources within Nusra Front told Reuters that Qatar was encouraging the group to cut ties with al Qaeda, to be able to win more support from Gulf States – which also oppose both Assad and the Islamic State jihadist group.
Nusra Front is listed as a terrorist organisation by the United States and has been sanctioned by the UN Security Council, but it is more powerful than the mainstream groups favoured by Washington and its Arab allies in the fight against both ISIL and Assad's government.