Scotland vote could prove key to Downing Street's next occupant
Comments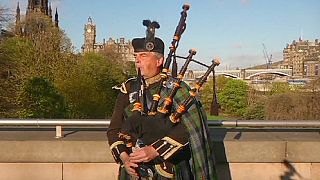 Scotland has dominated the election campaign in the UK like never before. The Scottish National Party are riding on a wave of post-independence referendum support. Turnout in the election is expected to be higher north of the border as a result of this referendum effect.
Parliamentary arithmetic might require Labour to change their views
With just 8% of the British population the Scottish vote is proving key in an election that is too close to call.
BREAKING: Last #ge2015 poll shows SNP set to take 52 of Scotland's seats leaving Labour with 6 http://t.co/NLwjR1gTWcpic.twitter.com/ldIp4ws0mI

— Record Politics (@Record_Politics) May 6, 2015
The Scottish nationalists (SNP) are set to clean up winning as many as 59 seats in Westminster and wiping out Labour in their traditional strong-hold. This could make them kingmakers if Labour wanted to form a majority government on May 8th. However, this has become a dangerous proposal for Labour.
"The Conservative Party have run a demonisation campaign on the SNP," explained
Duncan Ross, political analyst at Glasgow University. "So they are playing on fears in England and the Labour Party have had to respond to that by saying to their supporters in England 'don't worry we won't accept the support of the SNP'. I think, as I say, parliamentary arithmetic might require them to change their views."
#GE2015 front pages - The National: "Let's colour Scotland yellow" pic.twitter.com/ynuxwzTYkL (via @suttonnick) #TomorrowsPapersToday#BBCPapers

— BBC News (UK) (@BBCNews) May 6, 2015
#GE2015 front pages - Telegraph (Scotland): "Sturgeon won't force me out" pic.twitter.com/NHndgNV6Gi (via @suttonnick) #BBCPapers

— BBC News (UK) (@BBCNews) May 6, 2015
The Conservatives had hoped to play on fears of another referendum on independence being called with SNP playing a big role in Westminster. Former Conservative PM John Major said the the future of the UK was on the line in the general election. SNP leader Nicola Sturgeon has sought to play down such rhetoric saying that it was 'desperate scaremongering' though has so far refused to categorically rule out another plebiscite.
The Scottish National Party lost the independence battle but may have won the war,as many analysts predict Labour might have to back down and join a coalition with them if they want to get their hands on the keys to Downing Street.
French newspaper Le Nouvel Observateur talks of a "Scottish revenge".
Elections au Royaume-Uni : la revanche des Ecossais. http://t.co/BPB5nBFzyD

— Actualités en France (@France) May 7, 2015
Others looked at the election as the disunited kingdom.
Une journée de suspense so Scottich and so British #Royaume_Uni#electionspic.twitter.com/Xil2xAfc1Y

— Pascale Conte (@pascaleconte) May 7, 2015
Le Royaume-Uni peut-il devenir le Royaume-désuni ?: En ce jour d'élections, le Royaume-Uni semble moins uni qu... http://t.co/GHvQerenDO

— utopiedujour (@utopiedujour) May 7, 2015