Battle brews in Washington over trade deals
Comments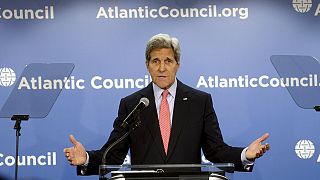 As the ninth round of negotiations on the EU-US free trade deal wrapped up in New York, a battle was brewing over trade deals in Washington.
Legislation to fast-track trade deals through Congress were given the greenlight by a key committee on Thursday. However, it received little support from Democrats. The deal effectively reduces Congress' role to a yes-no vote on trade deals with no power to amend agreements. Democrats are worried, especially in the negotiations over the Pacific Trade Pact that it would mean Americans could lose their jobs as businesses in Asia.
Over in Washington euronews correspondent Stefan Grobe explains how the battle over trade deals is set to be long and drawn out.
"Domestically, the Obama administration has more support for a trade agreement from Republicans than from Democrats. That puts the likely Democratic presidential nominee Hillary Clinton in a complicated position and could make trade a major issue of the 2016 campaign."
Brushing aside partisan problems, the White House aimed to drum up public support for the EU-US Trans-Atlantic Trade and Investment Partnership deal aka TTIP.
"Looking ahead, TTIP will reinforce our common effort to counter violent extremism, support the sovereignty of Ukraine, build energy security. And also, it will help us address global problems such as nuclear proliferation and climate change," declared US Secretary of State John Kerry during a press conference on Thursday.
But Kerry's wide-ranging claims are unlikely to have traction in Europe. Mass protests were carried out over the weekend to show disapproval of the deal. It has created as much confusion as criticism notably over food safety concerns, fears over privatisation of the health sector and the ability of US companies to sue governments if their policies affect their profits.