Meet the militia fighting ISIL's "dictatorship and inhumanity" in Syria
Comments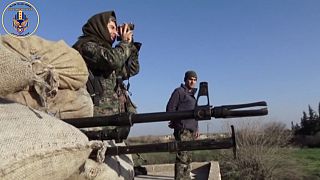 Setting free Christian hostages from the hands of ISIL has become the new priority for the Syriac Military Council.
That is according to Gabriel Kino, one of the leaders of the Christian militia, who spoke to Euronews after the kidnapping of hundreds of civilians near Hassake in Syria.
Around 20 of them were last week released, according to the Syrian Observatory for Human Rights.
"Our priority is to control the Khabour villages and to free our hostages," said Kino. "The international coalition air strikes are helpful because they are slowing ISIL forces and prevent them moving their heavy weapons. But being on the ground is the only way to free hostages and populations."
[MAP]
The Syriac Military Council, founded in 2013, has three battalions, each composed of around 300-350 soldiers, some of them who have arrived to fight from Europe. They are Christians, allied to Kurdish and some local Sunni forces. They fight against jihadists to save their culture and presence in this part of the Middle East.
Kino added: "It's been hundreds of years that we (Syriacs or Assyrians) are being slaughtered or forced to leave Syria, Turkey, Iraq or Lebanon. It is nothing new. The scenario is the same but the actors are different, they want us to lose our lives, our culture and our language."
There are fears about threats to their culture and heritage after ISIL's destruction of priceless items in Mosul Museum in Iraq. UNESCO has called this act a "war crime".
"Today it is our right and our duty to defend ourselves, just as others civilian populations of the region," said Kino. "It is not because we are Christians and they call themselves Muslims that we have to talk about a religious war. From now on, there is more Muslims killed by ISIL than Christians. It is more a fight for democracy against dictatorship and inhumanity. But those religious questions affect relationships in villages, people don't trust anyone anymore."
Since ISIL's incursion into Syria they have used the same strategy that they utilised in Iraq: divide, conquer, then subdue with violence, said Kino.
He added: "For several months, they are forcing Christians to remove crosses from their villages. They are trying to scare us away or eliminate us, like they did in Mosul and in the Sinjar. Our people must stay and find strength to fight."
On the ground, the Syriac Military Council has had to learn quickly to fight an enemy with more soldiers and better weapons. From being a defence militia, the group has had to adjust and become a force able to lead raids on jihadists' locations.
"One of their tactics is to send first booby-trapped cars," said Kino. "Going on the offensive will give us a better chance of defend our lands. We also hope to move forward so we can negotiate the release of our hostages."
And what about the Syrian government forces?
"The Syrian army is not doing much and it is maybe better like that. We don't believe that they can help us in our cause."