USA: gunned-down homeless man had 'history of mental illness'
Comments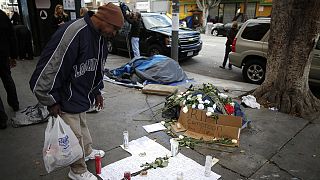 The moment a homeless man in Los Angeles was shot dead has been caught on camera.
Police say they were responding to reports of a robbery in the Skid Row area of the city when they approached the man, known only by the street name 'Africa'.
Africa is said to have had a history of violent and erratic behaviour. He immediately began fighting them off and grabbed at one officer's gun, according to officials.
During the confrontation, he was fatally shot.
One witness described the incident:
"There was [sic] enough officers around, they could have contained this man. Mentally ill, or not. If they can't contain one person, then there's something wrong with them. Brute, unnecessary force is what happened."
Skid Row, a square-mile area in downtown Los Angeles, is inhabited by over 3,000 homeless people – a third of whom suffer from mental illness, the Los Angeles Homeless Services Authority reports.
Civil rights activists have called on the LA Police Commission to hold a hearing on the use of lethal force in the area, following reports of several volatile interactions between law enforcement officials and local inhabitants.
Los Angeles Police Chief, Charlie Beck, made the following statement:
"The officers involved in this incident are assigned to our Safer Cities initiative in (the) central area, and are specifically trained in dealing with homeless people and mental illness issues. Several of the officers have participated (in) and completed our most extensive mental illness training."
The shooting comes at a time when police in the US are being closely examined following a string of incidents in which authorities have used lethal force to control suspects.