Russia's Gazprom excludes rebel-held areas from Ukraine's gas contract
Comments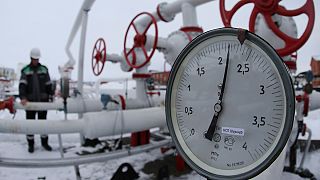 Russia gas giant Gazprom said that Ukraine will not have to pay for gas supplied to areas of Ukraine's eastern Donbass region under rebel control: Donetsk and Luhansk.
But the gas flow to the rest of Ukraine could be suspended as early as Monday because they have only prepaid for enough gas to last until the end of the week.
"We are prepared to leave gas deliveries to the Donbass region out of the discussions. And we are ready to deliver gas in the requested quantities through the transit stations they have indicated," explained Gazprom spokesperson Sergey Kuprinyanov . "But, given the current supply level, their prepayment is only enough to last until the end of the week."
Ukrainian energy firm Naftogaz has accused Gazprom of failing to supply gas which Kyiv had paid for in advance.
Meanwhile the European Commission has invited the Russian and Ukrainian energy ministers to Brussels on Monday for a trilateral meeting to discuss gas security and supply.
The dispute could disrupt gas flow to Europe which gets around a third of its supplies from Russia. About 40 percent of that supply comes via Ukraine.