Amnesty report blasts UN, governments for not doing protective duty
Comments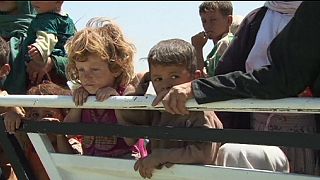 "2014 was a catastrophic year for millions caught up in violence," according to Amnesty International in its annual report on human rights.
It accuses governments and the United Nations of behaving hypocritically in saying civilians deserve protection but not acting to support this.
Tied in with the violence, the report says, the number of displaced people around the world exceeded 50 million last year for the first time since the end of World War Two.
Amnesty says the UN Security Council failed miserably to keep civilians safe, the five permanent members abusing their vetoes and putting their self-interest first, noting crises that included Syria, Iraq, Ukraine, Israel and Gaza.
It cited the 2,000 Palestinians — mostly civilians — killed when Israel assaulted Gaza, in response to Palestinian militants firing rockets into Israel. It refers to allegations of war crimes by both sides as being met with "callous indifference".
Amnesty lists abuses in 35 out of the 160 countries covered in the report.
It underscores that the new authorities in Kyiv have not brought to trial the police who killed protesters in Maidan street violence that degenerated into a civil war, with Russia's participation.
More than 4,000 Ukrainians were killed in eastern Ukraine in 2014, it said, many of them civilians, as both sides used explosive weapons in residential areas.
The report focuses further on the downing of Malaysia Airlines flight MH17 over rebel-controlled territory, noting that the rebels first claimed they had destroyed a Ukrainian military aircraft, then retracted once it was found to be a commercial plane and that 300 civilians had been killed.
Amnesty is scathing toward the European Union's collective response to refugees, accepting only 150,000 Syrians, and for the EU's inattention toward creating adequate legal immigration paths while 3,400 migrants died crossing the Mediterranean Sea.
The rights group went as far as saying the Europeans were "pushing people into the water."
Fifteen migrants attempting to reach the North African Spanish enclave of Ceuta by swimming drowned as security forces held them off.
Spain was criticised as using excessive force, and for trying to legalise summary expulsions to Morocco.
Inaction to help victims of Islamist extremists was also highlighted.
Also, the United States was not spared in Amnesty's report, slammed for arresting tens of thousands of children fleeing poverty and gang warfare in central America.