Meeting of minds: what we can learn from intercultural exchanges
Comments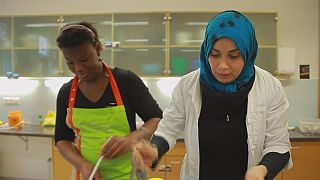 Sometimes we learn more about people from other cultures by meeting them than we do by reading about them. In this edition of Learning World Maha Barada presents three stories that reinforce this idea.
Austria: the melting pot
Conflicts in Syria, Iraq and elsewhere have caused a surge in people seeking asylum in Europe in recent years. In some cases this has caused tensions with host communities. In Austria one NGO has set out to break down the barriers between local people and the refugees in their midst. KAMA runs classes and workshops where the new arrivals teach locals about aspects of their respective cultures; dance, music and even cooking, which has proved to be a recipe for success.
Turkey: international family affairs
Student exchange programmes are nothing new but the project we look at in our second report is unusual in that it opens young Americans eyes to cultures that they might not otherwise get to know much about. We meet one young woman learning Turkish with a host family in Izmir. As we find out it's a hugely enriching experience for both her and the Turkish family she stays with. The programme is also contributing to a new generation of potential US diplomats.
Guatemala: multicultural movies
Prejudice and misconceptions about other cultures often fuel ethnic tensions. An initiative in Guatemala has succeeded in bringing young people from Latin and indigenous communities closer together by getting them to cooperate on film-making projects. The Puerta Jóven programme has also managed to reduce violence in schools and dropout rates.
Watch the video to find out more