ISIL claims US hostage killed in bombing raid Washington seeks proof
Comments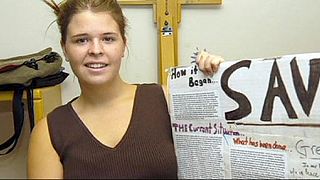 ISIL militants claim that US hostage, Kayla Mueller, has been killed during a Jordanian air strike.
The group announced she died in Raqqa, an ISIL stronghold in Syria.
ISIL provided no proof of her demise except pictures of the alleged bombing site.
The White House said it was investigating the claim, but has yet to verify the veracity.
US State Department spokesperson Marie Harf made the following statement: "I will , say that Secretary Kerry and our team and across the US government are putting in every effort behind finding to locate Americans being held overseas.
Every intelligence tool, diplomatic tool. The Secretary has reached out to over four dozen countries about Americans being held overseas writ large to try and bring these people home."
Kayla, an aid worker from Arizona, was taken hostage in Aleppo, Syria in 2013.
Her family called on the media to "cautiously report" and to "limit speculation on her situation."
In her home town of Prescott the locals are well aware of her plight: "Well, aid workers do it out of their heart, the goodness of feeling that they want to help, and they go there with the intent to do good, and they're on their own basically and when they get captured like that it affects us all."
Jordan said the ISIL claim is not to be believed, though admitted carrying out bombing raids over Syria, including Raqqa.
Amman has upped its sorties on ISIL positions in response to the brutal killing of one its pilots.