#Twiplomatic fail: Internet responds to Argentine President Kirchner's gaffe
Comments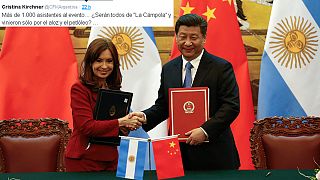 It seems Argentine President Cristina Kirchner can do no right. Embroiled in a scandal at home involving the mysterious death of prosecutor Alberto Nisman, she might have hoped her official visit to China would take some of the heat off her.
But it seems her Twitterquette demands some attention after she posted a highly offensive tweet mocking the accent of her hosts.
Más de 1.000 asistentes al evento… ¿Serán todos de "La Cámpola" y vinieron sólo por el aloz y el petlóleo? …

— Cristina Kirchner (@CFKArgentina) February 4, 2015
In the offending tweet she poked fun at the Chinese by replacing the "r" with "l" in Spanish for "arroz" and "petróleo" meaning "rice and "petrol".
She followed up minutes later saying, "Sorry, the levels of ridiculousness and absurdity are so high they can only be digested with humour."
Sorry. ¿Sabes qué? Es que es tanto el exceso del ridículo y el absurdo, que sólo se digiere con humor. Sino son muy, pero muy tóxicos.

— Cristina Kirchner (@CFKArgentina) February 4, 2015
With 3.5 million followers on the social networking site, it wasn't long before incensed and highly derisive responses poured in. Her diplomatic gaffe was ridiculed from Buenos Aires to Beijing.
Fernandez' faux pas in China. Really, this sort of joke went out of fashion in the 70s… http://t.co/mPChqcEM7U

— Guy Chazan (@GuyChazan) February 4, 2015
It inspired the hashtag #LaCampola in Argentina. La "Campora" is the youth wing of Kirchner's party. It is common to joke that meetings are well attended when there's food on offer (much like press conferences and journalists), which is why Kirchner deemed to joke about changing the "r" to "l" and renaming the thousands of participants at the meeting she was attending 'La Campola' in her original tweet.
One Twitter user quipped that Kirchner was in competition for being the most idiotic leader in Latin America.
sopitas</a> <a href="https://twitter.com/plumasatomicas">plumasatomicas Cretina Kirchner entra en la pelea x ver quien es el gobernante más imbécil de latinoamérica

— angel lopez muñoz (@angeluam) February 5, 2015
Gabriela Cerruti, an Argentinian journalist and politician said, "Humour is untouchable as the basis for freedom of expression. It shouldn't be censored except when it comes from Kirchner."
El humor es intocable. El humor es la base de la libertad de expresión. El humor nunca es censurable. Salvo cuando es de CFK. #LaCampola

— Gabriela Cerruti (@gabicerru) February 4, 2015
One user of China's social network Weibo quoted in the Wall Street Journal said, "because you are the president of a trifling country like Argentina—that's why you'd say these kinds of things." Another wrote, "Are we sure this is the president of Argentina, could the president be this low-quality?"
One reaction from China was of incredulity as Twitter is banned in the country.
Reaction from China: "She was able to use Twitter in China?" http://t.co/B5Iw2gqm5Zpic.twitter.com/jF68ce6HUv

— Ana Rivas (@anarivasWSJ) February 5, 2015
Other Twitter users took the opportunity to remind Kirchner of what awaits her when she returns home to deal with allegations over the mysterious death of Alberto Nisman. One user said, "more than lice and petlol I want to know what happened to Nisman on that tragic Sunday."
Más que reirme de #LaCampola, el aloz y el petlóleo, tengo ganas de saber qué fue de Nisman ese trágico domingo #Justicia#TodosSomosNisman

— Adri Conesa (@MaatJov) February 5, 2015
Alberto Nisman was the prosecutor investigating the case of a 1994 embassy bombing in Buenos Aires. Nisman claimed that Fernandez wanted to whitewash the bombing in exchange for a lucrative oil deal with Tehran. He was found dead in his apartment hours before he was due to present his case to Congress.
A separate Twitter storm is blowing up around the case after American actress Mia Farrow entered the fray. On Tuesday she tweeted, "Looks like Argentina's Prez not only covered up 1994 bombing of a Jewish center, but also killed the prosecutor." A series of tweets from her chief of cabinet Anibal Fernandez said that Farrow must be misinformed.
As Secretary General of the Argentina Presidency I believe MiaFarrow</a> affirmation regarding our Prez is consequence of either misinformation</p>&mdash; Aníbal Fernández (FernandezAnibal) February 5, 2015
.. or lack of it. Such a respected and committed artist and activist as MiaFarrow</a> is certainly aware of the perils of media bias nowadays</p>&mdash; Aníbal Fernández (FernandezAnibal) February 5, 2015
In the latest twist, Argentine investigators say they have found a draft document seeking an arrest warrant for President Kirchner in Nisman's home.