Sony postpones release of 'The Interview' following cyber threats
Comments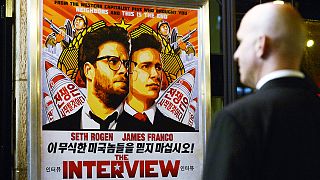 A decision by major cinema chains in the US not to screen the film "The Interview" has caused Sony Pictures to cancel its December 25 release.
It follows internet warings to the public not to go to see the film which is about a fictional plot to kill the leader of North Korea.
Hackers calling themselves 'Guardians of Peace' have already released damaging emails stolen from November's cyber attack on Sony.
In a message they mentioned the 9/11 attacks, warning cinema -goers to say away, however some members of the public remain unconvinced:
"Actually I think Sony should release the film regardless of e-mails, they are just e-mails."
"I think that's just doing that for, you know, like to scare people I guess, so people wouldn't go see it. But I don't think nothing is going to happen, honestly."
Investigators claim North Korea is behind the attacks, describing them as 'state sponsored'.
But the decision by theatres to refuse to show the film has been widely criticised with some actors calling it an 'act of cowardice that validates terrorist actions'.