Nobel prizewinners Malala Yousafzai and Kailash Satyarthi: united for children's rights
Comments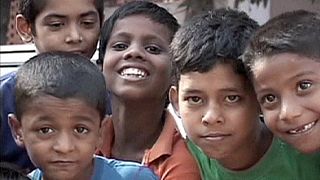 By both being awarded the Nobel Peace Prize, they became united by the in the same struggle for children's rights: Malala Yousafzai from Pakistan, and Kailash Satyarthi from India.
She fights for the right of girls to education; he for the abolition of child labour.
A prize shared between two laureates for peace, whose countries are sworn enemies: India and Pakistan.
Malala Yousafzai is the youngest ever Nobel winner. Aged 11, she wrote a blog criticising the Pakistani Taliban's campaign to deny the right of girls to education – and became a thorn in their side.
On October 9, 2012, they intercepted her school bus in her native Swat valley and shot her in the head, accusing her of damaging Islam.
Gravely injured, she survived after being treated in the UK, in Birmingham where she lives today.
Her campaign continued – this time in the world's spotlight. Her Malala Fund aims to empower girls through education.
Malala became an icon, notably in South Asia where 17 and a half million girls between five and 13 years old are not sent to school.
"My message to the world is that they should take it serious, and they should never remain silent, because these children need our help. If we forget them, and if we say that they are far away, it wouldn't affect us, so it's not true, because if we don't stop war, it will spread. If we don't stop terrorism, it will spread, and it can affect every person in this world," was the advice of the new Nobel Peace laureate.
At 60 years old, Kailash Satyarthi from New Delhi is a veteran campaigner against the enslavement of children in India's factories.
He has asked the United Nations to make a priority of abolishing this phenomenon which, he says, is even on the rise.
"We have seen in many countries that trafficking has increased. The demand for cheap docile labour for domestic help, free docile and cheap labour for supply chains has been increasing in many sectors in the world. And that's why we wanted to demand as an international anti-slavery community, anti-child labour community, that abolition of child slavery must be given the top priority," he said in November.
Kailash Satyarthi gave up his career as an electrical engineer back in 1980, to combat the economic exploitation of children.
Over the last 30 years, his Bachpan Bachao Andolan (BBA) association, a grassroots movement for the protection of children, has freed 80,000 child workers in India.
After centuries where such children had no rights, he says, the Nobel Prize has now finally recognised them.