Tamir Rice: Locals hit out at police use of force
Comments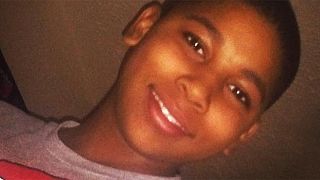 As an investigation begins into the shooting in Cleveland, Ohio, of 12-year-old Tamir Rice, locals have been critical of the police's heavy handedness and use of force.
Officers arrived on the scene after receiving a 911 call that a person was waving a gun in a park. The 911 caller told the responder: "It's probably fake but he's scaring the sh*t out of people." He went on to add that he was probably a "juvenile".
After the shooting, locals gathered at the scene and turned on police, saying said the officers were too quick to shoot.
One bystander said: "They shot him, a little black boy. Always kill the black kid, right?"
There is no justification for a child being gunned down NONE . Yet another child becomes a hashtag he was 12 #TamirRice

— 20 and 2/3s (@only_sumtimes) November 23, 2014
And if you find yourself blaming #TamirRice in any way, then 'racist bigot' is a becoming shade on you.

— Sana Saeed (@SanaSaeed) November 23, 2014
'The land of the free' is sounding more and more like a police state every day. Well... If you're young and black. #TamirRice

— Nayomie (@NayomieJade) November 24, 2014
Tamir's father, told NBC: "Who would know he would go so soon? He ain't lived a whole life yet. He was only 12 years old. He didn't know what he was doing. And the police, they know what they were doing?"
But Jeff Fullmer, president of the Cleveland Police Patrolmen's Association, defended the officer who pulled the trigger.
"He had no clue he was a 12-year-old," he said. "He had no clue it was a toy gun, he was kind of shocked. He was concentrating more on the hands than on the age. It's not 'go shoot a 12-year-old with a good fake gun'. It's not that scenario at all. This is a compassionate officer."
When he was asked why the officer did not use a Taser, Fullmer responded: "We are not coming to a male with the gun with our Tasers out; we're coming to a man with a gun with shotguns or rifles out. You shoot someone in the leg and that's a real gun they're going to fire another 10 rounds at you."
The police officers involved have been placed on administrative leave. It has been reported that one was a first-year rookie, the other a 10-year veteran.
In 3½ months, Ohio police shot two unarmed black males who were holding fake guns. Ohio is only 12% black. Yes, it's about race. #TamirRice

— JRehling (@JRehling) November 24, 2014
State representative Alicia Reece said she would introduce legislation to ensure that air rifles and replica guns have prominent fluorescent strips to avoid confusion in the future.
The incident comes less than two months after the shooting of John Crawford, another young black man, who was killed holding an unloaded air rifle while talking into his mobile phone. CCTV footage of the shooting showed that he was shot from the side as he moved to run away from armed police officers.