Do you have a question for Ban Ki-moon?
Comments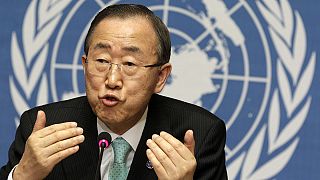 Ever wanted to put a question to the chief of the United Nations? Well, here is your opportunity…
Ban Ki-moon will be taking part in The Global Conversation on Sunday, September 21, with euronews' Isabelle Kumar.
Isabelle Kumar will be quizzing him on a range of topics, including terrorism, the 'global fight' against ISIL, the crisis in Ukraine and climate change.
The programme will be aired on Tuesday, September 23.
Have you got something to ask?
Send your question using #AskBanKiMoon on Twitter, or add it to the comment section of this Facebook post.