Ukrainian PM accuses Russian soldiers of 'war crime' after serviceman killed in Crimea
Comments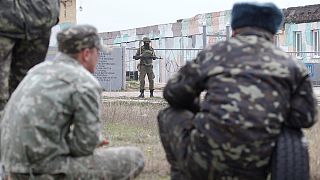 Ukraine's prime minister has accused Russian soldiers of a "war crime" after a Ukrainian serviceman was killed in Crimea.
Arseny Yatseniuk made the claim after a Ukrainian base in Simferopol came under attack.
One serviceman later died of his wounds and another, a captain, was injured, according to Ukrainian military spokesman Vladislav Seleznyov.
It was unclear, Seleznyov said, who had staged the assault. He described the attackers as "unknown forces, fully equipped and their faces covered".
Seleznyov said the dead serviceman was responsible for overseeing a vehicle pool at the base. He said the attackers had told the Ukrainian servicemen that they were under arrest and their documents were confiscated.
"Today, Russian soldiers began shooting at Ukrainian servicemen and this is a war crime without any statute of limitations," Yatseniuk told a meeting at the defence ministry.
Yatseniuk added he had ordered Ukraine's defence minister to call a meeting with his counterparts from Britain, France, and Russia – signatories to a 1994 treaty guaranteeing Ukraine's borders – to "prevent an escalation of the conflict".
Reuters