Watch: Woman injured after elephant attacks car in Kruger National Park
Comments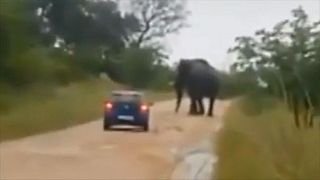 This is the terrifying moment a British teacher was injured when an elephant attacked a car in Kruger National Park, South Africa.
Sarah Brooks from Lincolnshire was stabbed in the thigh by one of the elephant's tusks, park managers said.
William Mabasa, general manager at the park, told the BBC: "Of course they were totally frightened but also thankful that they were alive.
"The car is a wreck, if I may put it that way.
"I mean it was completely flattened but fortunately the elephant concentrated on the back of the car, that's why we still have our guests alive now as I speak."
Brooks has since been released from hospital. Her partner, who was in the car with her, suffered less serious injuries.