China's Xi on friendship and influence tour
Comments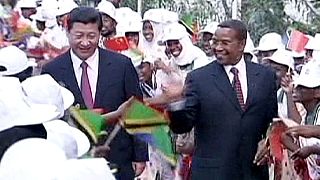 China's presidential couple are on their first foreign tour since Xi Jinping's recent confirmation in office. First stop was Russia, to highlight the strength of the neighbouring giants' reciprocal interests. Moscow and Beijing are not only close in energy and trade matters; they each have a seat in the United Nations Security Council and often share a similar vision on important global affairs.
Xi said as much in Moscow: "We are experiencing a changing era and facing a changing world. Peace, development, cooperation and win-win situations are becoming the trend. The outdated colonial system has been cut back. The confrontation among groups of the Cold War era can no longer exist. The world must not be dominated by any single country or bloc."
Beijing's pursuit of robust growth makes it as much a geopolitical player as economic. In this, Africa promises potential, and Xi has also visited Tanzania, demonstrating China's commitment there.
China needs the enormous mineral resources for which Africa is a rich source, and Africa is also a market for Chinese manufactured goods. Bilateral trade, therefore, is booming.
Total trade between China and the African continent went from 7.7 billion euros in 2000 to 128 billion euros-worth in 2011.
Tanzania's President Jakay Mrisho Kikwete made clear in Dar es Salaam that he sees relations between his country and the Chinese as mutually beneficial: "We use traditional technology. We use the hand hoe. We cannot develop agriculture. We don't use fertiliser. We don't use high-yielding seeds. We don't irrigate our farms. So we need technology. We need the technology that is going to help us in the growth process."
China has been developing its long-term strategy in Africa for many years. After Tanzania became independent, in the early to mid-1970s China helped to build a more than 1,800-kilometre-long railway from Dar es Salaam to Zambia.
euronews spoke to head of the South-Eastern Asia Centre in Moscow Dmitry Mosyakov about the obvious and hidden aspects of modern Chinese policy.
Marina Ostrovskaya, euronews:
"The new president of China, Xi Jinping, has made his first official overseas trip. His first stop was Russia, before moving on to three African countries and finishing his trip in Durban in South Africa at the BRIC summit.
"It's evident that this route and these countries were not chosen by chance by the new Chinese leader for his first overseas trip.What does this route mean for you as for an expert?
Dmitry Mosyakov:
"His route very clearly tells us about the priorities of modern China and the new Chinese government. It tells us about the priorities in foreign policy as China keeps an eye on the future. And in the view of the new Chinese authorities, Russia is moving into the position of forming a very close and intimate alliance.
"The Africa question is different. It's not a secret that Africa now is one of the main targets in the field of Chinese economic interests where Beijing tries to improve and strengthen its influence.
"In fact, the development of China needs, on one hand, security in the North – and this security, in a global way, will be guaranteed by the Russian-Chinese relationship.
"And on the other hand, a considerable mineral resources market which has to be used for further developing the Chinese economy. The largest part of this market is in Africa now."
euronews:
"Russian President Vladimir Putin called Xi's visit to Russia – the first stop in his first official overseas trip – a "symbolic gesture". What kind of relationship you can see today between Russia and China?"
Mosyakov
"I think that this relationship will be improved. It's clear that the countries have common interests and common targets in today's world.
"If we speak about China, it has become increasingly evident that the relationship with the USA has entered a very complicated period of struggle; with the US trying with all their means to suspend China's growth of power, to halt China's increasing influence in South-Eastern Asia and countries of the Pacific region – and also considering the very difficult relationship between China and America's close ally Japan.
"In this situation, Russia has a huge interest in consolidating the relationship with China, and looks at it not just as an economic alternative, but also a political one.
"A closer relationship with China would definitely strengthen Russia's position, especially when it comes to negotiations with the European Union and America."
euronews:
"You have already mentioned Africa. One Russian newspaper called the continent "a trump-card in a global game", which is played rather successfully, especially by China. Has Beijing got any opponents in this game?"
Mosyakov
"Yes, of course. This competitive struggle is evident and you can see it in different spheres. The Chinese media, for example, doesn't hide the totally different attitude of the country towards the problems in Mali.
"In our Russian press, and in the West in general, the point of view deals with the fighting against the Islamists, radicals, extremists and the fight against their attempts to take over this African country.
"But look at the Chinese press! They write that the purpose of this military operation is really the aim of moving China out, of cutting China off from mineral resource deposits, especially rare-earth minerals that are found in Mali and that Beijing has the plans to exploit.
"So it looks like that the main aim of the military operation is to force China out from the countries south of the Sahara.
"Indeed Africa is becoming the battlefield in a very tense struggle.
"The former colonial powers like France, or the USA which has no colonial history but does have huge interest in Africa – of course none of them are not going to accept Africa becoming the source of mineral resources for China's growth."