Romney looks to Convention for bounce
Comments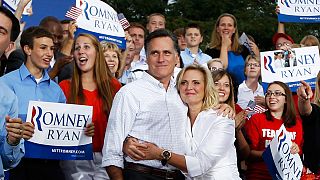 Mitt Romney on Monday will be the star of the United States of America's Republican Party National Convention. The four-day political jamboree will see him crowned as its official presidential candidate.
The businessman and former Governor of Massachusetts' pick for vice president, if he wins the top job in elections this November, is Paul Ryan, 42-year-old congressman for the state of Wisconsin and current chairman of the Budget Committee in the House of Representatives.
This year's Convention in Tampa, Florida is expecting 50,000 Republican delegates, journalists, guests and protesters.
Roman Catholic Cardinal Timothy Dolan will give Romney his blessing, though a Church spokesman said the appearance is not an endorsement.
Catholic groups are suing President Barack Obama for obliging employers to provide health insurance that includes free birth control. Subjects like this are frequent grounds for disagreement in the civil rights and religious arena.
Romney's campaign has marched to the economic drumbeat but for some days has been sidetracked by comments on abortion and rape made by fellow Republican Todd Akin, who has been running for a seat in the Senate.
Presidential campaign strategists and other observers say the distractions from the economic message are unfortunate timing, just when Romney really needs to shine.
Adrian Lancashire, euronews: "Jonathan Karl, thanks for joining us. These conventions are tightly scripted attacks on the opposing party and candidate. Are we going to hear any message other than claims on the economy, jobs and Medicare?"
 
Jonathan Karl, ABC: "Of course, you're going to hear some other messages. This is the chance for Romney to put forward his vision for the country, this is his biggest chance, this is the one chance where he has the attention of the country. They're going to have huge viewership, especially on the night of his speech Thursday, and other than the presidential debates in the fall, this is really it. This is a chance to break through.
 
"One other thing aside from the predictable attacks on Obama and the talk about the economy, is watch for the image of the Republican Party they put forth. You're going to see a lot of Hispanic speakers, you're going to see African-Americans, you're going to see a lot of women, trying to put forth a more inclusive vision of the Republican Party than we've seen over this entire primary process."
 
Lancashire: "What can Romney expect out of this Convention? And what can the Republicans expect?
 
Karl: "Well, one thing Romney can expect is that President Obama is not just going to take this. The tradition in America has been, during our conventions, the other party stands back and cedes at least, for a few days, to the opposing party the chance to talk to the nation.
 
"But Joe Biden (Vice-president) is going to be in Tampa on Monday – that's the plan anyway – to give a speech. And the President will be campaigning during the Republican Convention; there is no ceding of ground here.
 
"But one thing the Republicans are hoping on, counting on, is to have a bounce coming out of this convention. By a bounce, I mean they will look stronger in the polls than they did going in."
 
Lancashire: "The Republicans have the least popular and least ideological candidate in a long time, together with the strongly ideological agenda of his vice-presidential running mate Paul Ryan – some people say this represents a kind of identity crisis. What do you think?"
 
Karl: "Well, an identity crisis is exactly what Mitt Romney's been accused of having for almost his entire political career. He first ran for office back in 1994 when he ran against Ted Kennedy in Massachusetts as a moderate Republican – almost disavowed his own party, said he was a different kind of Republican, even criticised Ronald Reagan when he ran back then. To win that Republican primary, he had to be very conservative on the issue of immigration, running to the right of the other candidates. Now he needs to come back and appeal to Hispanics without looking like he's flip-flopping on the issues.
 
"And Paul Ryan is an absolute hero to the conservative base of the Republican Party, something that Mitt Romney never has been and never will be. So it is a little bit of an identity crisis, but Romney now is a different candidate than he was when he governed in Massachusetts. He has embraced the conservative wing of his party and there's really no turning back at this point."
 
Lancashire: "What can you tell us about Todd Akin?"
 
Karl: "Todd Akin will not be welcome in Tampa. The chairman of the Republican Party has said, "Don't come, we don't want you!" So Todd Akin has basically been cut-off entirely by the party. They're embarrassed by him. The biggest impact that Akin is having on the Republican Party is that it's making it virtually impossible for them to retake the Senate, to win control of the Senate again. Missouri was the place that had the most vulnerable Senate incumbent up for re-election.
 
"It almost casts a little bit of a shadow over the Convention, even though Akin won't be there. People are reminded every day by Democrats that he is the nominee in Missouri and that he has close ties to Paul Ryan – you know, he served right next to Paul Ryan on the House Budget Committee. Paul Ryan co-sponsored with Todd Akin, and many others, a very stringent bill that would have banned abortions, so he has definitely cast a shadow over the Republican Party. That's why they want him out. That's why they want him to drop out of that race."