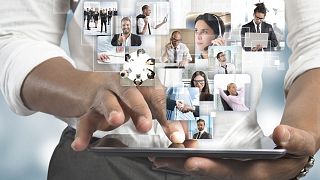 More than half of managers in the UK think flexible working can boost productivity and concentrations among workers.
That's according to a new report into the experience managers have faced since the start of the COVID-19 pandemic, which forced businesses to adapt their working practices.
Since the pandemic, there has been some tension between employees who have embraced the flexible working practices, and some employers who have been trying to row back on the policies.
The research conducted by researchers at the University of Birmingham Business School and the University of York, both in the UK, included data from almost 600 managers collected in the summer of 2022.
The researchers found that just over half of the managers surveyed agreed that working from home improved employee concentration, while 59.5 per cent of them agreed home working increased productivity.
A further 62.8 per cent agreed remote working increased motivation amongst their workers.
The research also found since the pandemic fewer managers believe long hours are needed in order to progress at an organisation. Before 2020, that figure was 43.4 per cent, whereas during the lockdowns it decreased to 38.7 per cent in 2020 and 35.2 per cent in 2021.
As of 2022, the figure has risen to 41.9 per cent - suggesting there may be a reversal of the trend underway.
"While presenteeism seems to be reducing since COVID-19 there are signs we are moving back towards a traditional long hours working culture," said the report's co-authors, Dr Holly Birkett from the University of Birmingham Business School and Dr Sarah Forbes from the University of York.
They praise the recent UK government announcement, however, of plans to give millions of employees the right to request flexible working conditions.
"It is a positive step that the government is moving toward making the right to request flexible working a day-one right but it is also imperative that as a society we ensure that flexible working is more freely accessible, including job shares and part-time working and across more industries," they said.
The authors point out that while flexible working is "here to stay," it is much more accessible for professionals and office workers.
"We also need to ensure that flexible working is properly resourced and managed within organisations, with appropriate inclusive communications and performance management systems in order to see the full benefits of this evolution in working practice".
They called on the government to review employment law to make sure it's fit for purpose post-COVID-19, as well as encouraging organisations to ensure their flexible working policies are not gendered.