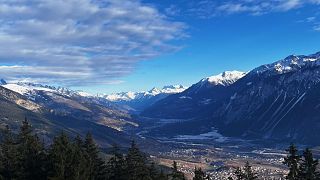 It's perhaps fair to say that Crans-Montana, located in the heart of the Swiss Alps, has historically been best known for its touristic appeal.
A dramatic mountainous backdrop, breathtaking views over the Rhône Valley from its 1,495m altitude, friendly locals, delicious food and endless options for outdoor pursuits make it the perfect year-round destination.
Not to mention, you're in good company: clientele includes Prince William and the late Sir Roger Moore, who died in the Alpine chalet he owned here. Side note, but rumour has it the aforementioned chalet is being transformed into a dedicated Roger Moore museum. Bond fans, unite.
If you haven't already executed a quick Google search of the region by this point of the article, don't do it just yet.
Not because the images you'll be served of blue skies (upwards of 300 sunny days a year), snow-cloaked mountains, rugged forests and quintessentially Swiss wooden chalets won't make you want to immediately invest in a sturdy pair of snowshoes and start researching the best places to sample raclette.
But because Google describes the department as a 'world famous ski resort'. And its 10,000 strong population and its businesses, bars and restaurants that remain open all year round and huge infrastructure projects that cover health, technology, education, prove that it's much more than just that.
So, how did the holiday destination in the middle of the mountains become one of Switzerland's most sought-after areas for tech companies?
Investing in technology
"Developing our region with technology sectors goes in the holistic wake of our historical major economic sectors such as healthcare, tourism, education and real estate," says Nicolas Féraud, president of the Crans-Montana region.
One key example of this is international hotel management school Les Roches' flagship campus, which specialises in training the future generation of hospitality workers.
The school's Spark programme focuses on technology and innovation within the hospitality sector, spearheading futuristic solutions like 3D face recognition for swift check-ins, ultra-personalised booking platforms that hone in on your preferences and AI-powered deserts that… well, we aren't exactly sure what they are either.
One thing we do know however, is if your main brand is "world famous ski resort", having cutting edge developments in hospitality tech in your backyard is probably quite useful.
Les Roches is far from the only high-level schools in the area. Though Crans-Montana's elevated mountainscape might seem worlds away from the bright lights of cities like Bern, Geneva and Zurich, one of the town's greatest assets is connectivity.
Twisty roads up the mountainside are just a small section of the route to Crans-Montana, and you can get to the capital city Bern in just over two hours.
Even closer, about a half hour drive from Crans-Montana, lies the city of Sion. There, you can find the EPFL school of engineering, one of four of its campuses are scattered across the country in other locations including Lausanne, Geneva and Neuchâtel, the centre of the Swiss watch-making industry.
EPFL educates engineering students and helps forge research discoveries that contribute to the advancement of various technologies.
The direct links Crans-Montana has with the schools offers budding technology companies setting up their businesses in the area a pool of qualified talent.
Health and wellbeing
Crans-Montana is a small but mighty force in the health and wellbeing industry.
Its relationship with medicine has a long history. Over a century ago, Dr. Théodore Stephani started to bring his tuberculosis patients to this small town in the Alps so they could recover in the fresh, dry climate.
Now Crans-Montana is home to three health clinics that make pioneering changes across research areas, including cancer and heart health.
Féraud says investment in healthcare remains such an integral part of Crans-Montana's plans.
"Medtech is really conducive to Generation Z entrepreneurs. This is particularly in the context of our local healthcare sector, which is directly linked to the renowned technological universities in our region".
The work-life balance
We already know that tech jobs are notoriously demanding. Long hours, unpredictable days and complex projects that can literally last for years, often make finding the all-important work-life balance that bit harder for tech professionals.
So, imagine being an employer able to offer your team the ultimate lifestyle as well as a role that could potentially make huge waves in the technological sector.
Young family? There's plenty of high quality schools in the area, including international schools.
If you are the outdoor type, not only are the mountains on your doorstep with skiing and hiking to boot, but there are also 12 lakes in Crans-Montana. Mont Blanc and the Matterhorn are also both about two hours away.
If you are more into retail therapy and restaurants, unlike many other Swiss ski resorts, Crans-Montana's highstreet is open all year round.
And for the artists and poets, name us a better setting to get inspiration.