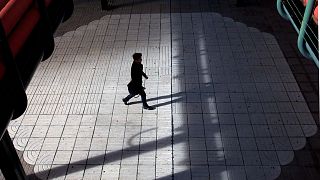 -
Copyright

AP Photo/Paul White
Like his colleagues at PricewaterhouseCooper consultancy firm in Madrid, Sergio Padilla was accustomed to working 12 hours a day: from 9 am until 9 pm.
At peak times, those days could even stretch after midnight to the wee small hours of the next morning, Padilla - whose name has been changed to protect his identity - tells Euronews. 
This seemed completely normal to him, as all his colleagues at the consultancy were in the same situation. Each of the departments endured marathon working days.
He would barely have any free time after work, just going home to get some sleep before returning to the office once again. He didn't even have time to buy groceries from the supermarket, ending up eating fast food for every meal instead. 
During his two years with the company, Padilla grew more "bitter," he said, with his work impacting his mood and social life.
So he decided to leave his job early in 2020, feeling he couldn't take it anymore. 
Now, Spain's Labour department is investigating working practices and conditions at the so-called 'Big Four' consultancy firms, made up of Deloitte, PwC, EY and KPMG. The companies did not reply to a request for comment.
Their offices were raided in November 2022, starting an ongoing inspection, according to sources from the Ministry of Labour and Social Economy.
The authorities are looking into whether the working hours of the employees are actually longer than what appears on their records. 
Like in the rest of the European Union, Spanish law limits the number of hours an employee can be expected to work.
'Work took up 80% of my time'
When he found out he had landed a job as an analyst at the Valencia office of Deloitte, Enrique Martin knew immediately he would have to work as much as he could.
"I knew I was applying for a very demanding, dynamic position, and I was aware I would have to make a huge effort. Consulting is known for having to work a lot," he says.
Like Padilla, he found it became normal to work overtime, sometimes doing 12 hours a day. This continued for nine months, from 2020 to 2021, until his contract ended.
"My life was just work, then I got used to it. I didn't realise it, but from Monday to Thursday, 80 per cent of the time I was in the office," he says.
Sources from the Labour Ministry say this is a specific case because it is the first time the Big Four are being investigated in the country - so there's no precedent.
At this time, the investigators are reviewing all of the companies' contracts to check that everything is in order, including the provisions on mandatory social security payments.
Marathon workdays and record profits
Spain's consulting sector has seen major fatigue in the workforce caused by employers, according to Raúl de la Torre from Comisiones Obreras, a Spanish trade union.
"A few months ago they wanted to include in the (collective) agreement that we had to work up to 12 hours a day from Monday to Saturday, without any additional compensation. We launched a campaign on social media that led to the first strike in the sector," he says.
This caught the attention of authorities. 
"It has been an official action, no complaint has been filed. Inspectors detect practices that they consider may be outside the scope of labour law, through the press or social media, and act," the ministry said in a statement.
For de la Torre, working conditions have only worsened since 2008, while companies have reported record profits. In 2021, they made €2.5 billion during the fiscal year, according to figures collected by the newspaper Expansión.
"The maximum duration of the working day is not respected, the rest period required by law is not respected, and the pay gets worse by each day," says de la Torre. 
"We have copies of the contracts in the sector and there are people working in Madrid who earn €14,000 a year."
Although the costs of living in Madrid might not be as high as in other European capitals like Paris or London, this figure was only slightly above half of the median household income for Spain in 2021 and considerably below what would constitute a liveable salary in the country's capital.
The union is concerned about the equality plans they are negotiating with the company. They wonder what might be the point of committing to applying a series of reconciliation measures when employees have no choice but to work 12, 14 or even 16 hours a day. 
"It's impossible to reconcile like this," says de la Torre.
Catapults and stepping stones
Although employee expectations have changed in recent years regarding benefits and working conditions, both Padilla and Martín point out that marathon workdays are completely normalised in the 'Big Four'.
"In 2008, with the crisis, if there was a job available, we had four people looking for it. It has been ingrained in people's minds that we have to be very grateful for the job," says de la Torre.
This is added to the fact that many of the new recruits at the big consulting firms are recent graduates.
According to the latest report published by the Spanish Association of Consulting Companies, 29 per cent of the new contracts made by these companies in 2021 were for fresh graduates who still had no work experience.
Young people see this sacrifice as a way to catapult their careers. 
"Most are working at the company for a couple of years with the goal of getting one of the clients to hire them. What they are looking for is to become known (in the professional circles), to get better conditions and a higher salary," says Martín.
This is corroborated by the LinkedIn profiles of ex-employees usually working for the 'Big Four' companies for an average of fewer than two years. In other large companies, the average is more like seven years. 
"These companies claim to hire 5,000 people a year, but the real reason they hire so many people is because the staff can't take it and they leave," says de la Torre.
As this is the first time that large consulting firms are being investigated, it is not known how much the potential fines could amount to. What is known is that they fear the outcome of the investigation.
"Many times, it's not only the fine, but also the liquidation files that are relevant. What's really big for the company is that they not only have to pay for all the overtime of each employee, but also to contribute for them," sources from the Labour Ministry say.
However, for the spokesman of Comisiones Obreras, this is not enough. 
"The mildest fines are ridiculous. Giving a company a €7,500 fine for not properly registering working hours and forcing people to do overtime is profitable," de la Torre says.
"The problem is that the Labour Inspection has to monitor thousands of companies, and there are relatively few inspectors. They should give them significantly more resources," he says.