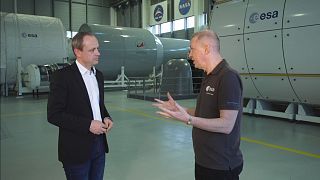 Space fan Cadar Felician from Romania would like to know what's happening with ESA's concept of building a village on the Moon. We put the question to astronaut and Head of ESA's European Astronaut Centre, Frank De Winne.
"The first step into this Moon village concept I would say is what we are doing today for example with our partners of NASA, building the Orion spacecraft, and the ESA service module to the Orion spacecraft, to be able to fly to the Moon," explains De Winne.
​
"We are working with our Russian colleagues, to provide landers on the Moon, to look for, for example, water on the Moon, because if we want to be there in a sustainable way we will have to explore there resources on the Moon. Oxygen, hydrogen, maybe to refuel a rocket.
So what's actually happening at the European Astronaut Centre in Cologne?
​
"Here at EAC we are actually looking at the operational concepts of such a 'Moon village', of such a lunar base," says De Winne. "How will we build the shelters there? We cannot bring them all from Earth. So we will need new resources. Can we use the regolith, the sand that is on the Moon, to build infrastructure? How would this interaction between humans and robots work? How will we build the life support systems? How will we produce food on the Moon?
This is what we are looking (at) here, in EAC, with the spaceship EAC concept," De Winne concludes.
Send your questions about space exploration and science to Euronews via social media using the #AskSpace hashtag, and we'll do our best to answer them.