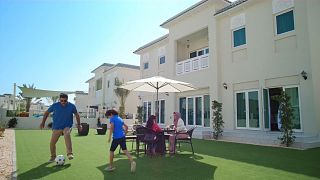 Copyright

euronews

-

Credit: Dubai
Many of us dream of relocating to a sunny tax haven, and Dubai is one destination that's banking on attracting expats to populate its workforce and power its economy.
 The emirate's population surpassed 3.5 million in 2022 but, with a major expansion of the city planned, the government's goal is a target of 5.8 million people by 2040. To lure immigrants, Dubai is offering an attractive package of postcard neighbourhoods, world-class infrastructure and ample business opportunities.
Three times speedskating Olympian Sarah Lindsay has just moved herself and her London-based Roar Fitness gym business to Dubai.
"We always wanted to expand abroad, but we weren't entirely sure where. So, we looked at a few different places and, actually because of lockdown in the UK, we spent an extended period of time in Dubai and absolutely fell in love with it," says Lindsay.
Establishing a Roar Fitness gym in Dubai was easier than Lindsay had expected.
 "As a businesswoman launching a business in Dubai, I found it a very positive experience. The community here is small. Networking is very easy. Word of mouth was fast. We had lots of enquiries very, very quickly and people signing up before we even opened, which was a very nice surprise."
Those who relocate to Dubai must undergo a medical assessment and be issued a valid resident's visa. When relocating to join a company, the inhouse HR department will oversee this process. If moving independently to work as a freelancer, set up a business or retire, people can apply for a visa via the Government of Dubai website, or use dedicated immigration services, such as Fragomen.
"Fragomen helps businesses and individuals through every step of the immigration process, making it a seamless and smooth transfer," says Murtaza Khan, managing partner of Fragomen Middle East and Africa.
Khan believes Dubai is ripe for an influx of expats. "If you look at migration worldwide, what's at the heart of attracting people? It's opportunity, and Dubai has long been a well-established business hub, but it's more than that," explains Khan. "Dubai offers lifestyle choices. You have the freedom to practise religion or not to practise religion. We have a relatively secure and safe environment, and lots of great infrastructure, health care and schools."
Leading Dubai-based educator, Heather Harries, is a respected independent voice in the education arena. 
Harries says: "There is a very reliable ranking system in Dubai. All schools have to be validated and inspected by the KHDA, which is a government inspection body. They then list the findings of these inspections on their website so you can see exactly what's going on in each school."
When choosing a school, with annual fees costing around €8,000 to €32,000 per year, Harries recommends doing your homework. 
"Look at the features you love in your current school and think about how you'd like that to be better," she says. "It might be that you want no homework for your children, or you want lots of homework. You might want less emphasis on uniform, or you might want more emphasis on uniform. It might be that your child loves sports, art or drama," says Harries. "There will always be a school to meet your wish list here."