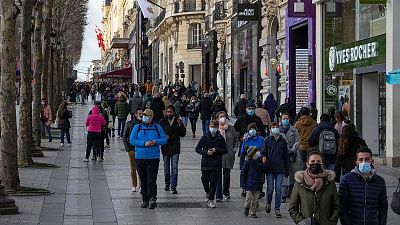 -
France lifted its blanket ban on UK travellers last week, enabling vaccinated tourists to return.
Holidaymakers no longer need to isolate on arrival, the country's tourism minister announced on Twitter, ahead of the ban lifting on Friday morning.
For almost four weeks, only those with "compelling reasons" were allowed to travel from Britain to France in a bid to stem the spread of the Omicron variant.
The welcome news has led to a surge of holiday bookings from those eager to hit the slopes. According to easyJet, flights to popular French ski destinations soared by 600 per cent the day after the announcement. Trips to Switzerland also peaked as double-jabbed Brits can now pass through France to resorts over the border.
But there is still plenty of COVID travel admin to contend with, and some parents have been left confused about the rules for teenagers.
Here's what you need to know for your upcoming French trip.
Do UK travellers need a COVID-19 test to enter France?
France requires all UK travellers to present a negative COVID-19 test - either antigen or PCR - taken within 24 hours before departure. Antigen tests must be certified by a laboratory and NHS lateral flow test kits are not allowed.
Privately booked lateral flow test kits can be used at home however, such as the Randox lateral flow test kit. After testing, users can submit their results via an app and wait for them to be certified by a laboratory. You will then receive a travel certificate to present at the airport.
Whichever test you opt for, the negative result can be shown in either a digital or paper format, according to the updated rules. You must also sign a "declaration of honour", swearing that you have not been suffering from COVID symptoms or (to your knowledge) been in contact with a confirmed case during the previous 14 days.
Details on what tests are needed for returning to the UK can be found here.
What are the vaccination rules for France?
UK travellers will need to show that they have been fully-vaccinated - which now has a tighter definition than two doses.
Essentially, all adults who had their second jab over seven months ago must get a booster vaccine to go on holiday. You can then upload the QR vaccine certificate generated by the NHS app to France's TousAntiCovid app.
This app generates a 'health pass' which is key to getting into venues in France, including restaurants, galleries and long-distance trains. If you're holidaying at a ski resort, you even need the pass to use ski lifts.
France's COVID health pass is being updated to reflect the changing situation. Currently, it requires one of three things: proof of full vaccination, a negative COVID test no more than 72 hours old, or proof of recent recovery from the virus.
But the French parliament has approved the transformation of the health pass into a vaccine pass, effectively getting rid of the latter two options. The 'pass sanitaire vaccinal' is expected to come into force later this week.
What are the rules for children?
Children under 12 do not need to be vaccinated or take COVID tests. But the rules for teenagers are a little less clear, as British families planning half-term trips have found.
Those aged 12-17 can enter the country if they are travelling with a fully vaccinated adult. They also need to present a negative test taken within 24 hours of departure.
Getting around once inside France appears to be another matter, however. Once the health pass turns into a vaccine pass, only fully-vaccinated holders will be able to get into venues.
Over-16s are expected to be in this category and - like adults - can access proof of their jabs through the NHS app. Vaccinated 12-15 year olds can apply online for an NHS COVID Pass letter proving their status.
Understanding that not all young teenagers will be fully jabbed, France is also allowing under-16s to take a lateral flow test in the 24 hours before going into venues like cafes and ski centres. Antigen tests are not free in France, so this is an extra holiday cost to bear in mind.