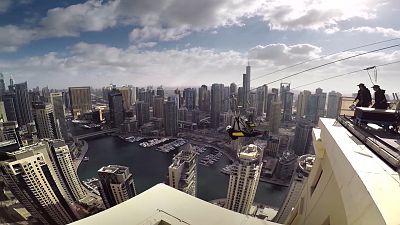 -
Whether you see it from the deck of a boat or the wire of its 1km zipline, Dubai Marina is a spectacle of ground-breaking architecture, bespoke superyachts and luxury shoreline hospitality.
This sought-after holiday destination encompasses the coastal neighbourhood of Jumeirah Beach Residence, known locally as JBR, home to retail and entertainment developments The Walk and The Beach, which multiple the attractions for fun-seekers.
Iconic five-star hotels hug the shoreline, their vast marble lobbies leading to some of Dubai's most famous weekend brunches and postcard-perfect beaches. Le Méridien Mina Seyahi Beach Resort & Marina is one of the longest-standing hotels in Dubai Marina with 500 metres of private Arabian Gulf coastline providing a playground for water sports enthusiasts.
Local expats regularly fill the resort's Barasti bar, restaurant and beach club. A Dubai institution in its second decade, this well-liked venue has grown into a sprawling sports and beach bar with open-air screenings and food stalls, and the only free-entry beach club in town. Despite progression, Barasti retains its original theme, defined by palm fronds typically found in the traditional barasti shelters favoured by the early Bedouins.
Other Dubai Marina beach clubs that draw crowds include Drift at One&Only Royal Mirage and Zero Gravity. Drift is dizzyingly beautiful; its pool deck, a catwalk for the latest swimwear fashions. Open until late, Zero Gravity is known for its high-octane parties and voyeuristic glass-sided pool.
Sun worshippers on Dubai Marina's deep sandy beaches pose for photos that frame its remarkable urban skyline. It's a backdrop that's hard to miss, containing some of the tallest residential towers in the world. The 101-storey Princess Tower once claimed the title of the highest, while the Cayan Tower retains its record for the world's tallest building with a 90-degree twist; it's structure akin to a giant corkscrew.
Flying through the skyscrapers on XLine Dubai is an exhilarating way to experience this brave and ambitious architecture. Spanning 1km, this zipline reaches speeds of up to 80km per hour, starting from a height of 170 metres – and riders go head-first.
Another way to admire Dubai Marina's architecture is from the deck of a boat. You can charter a private yacht, hop onboard an organised boat tour or take a water taxi.
Views are also in abundance on the Flying Cup, a rotating platform-turned snack bar that reaches heights of 40 metres, in JBR's The Beach. Flying Cup Operator Moin Kazi says: "Guests love the views, especially around sunset time; that's really amazing."
From on board the Flying Cup passengers can see Ain Dubai, the big wheel on Bluewaters Island and the Atlantis hotel on Palm Jumeirah. Look down and you'll also see Aqua Fun, an inflatable water park in the sea that, from above, reads: I [heart] Dubai – a sentiment you may well share after a day well spent in Dubai Marina.