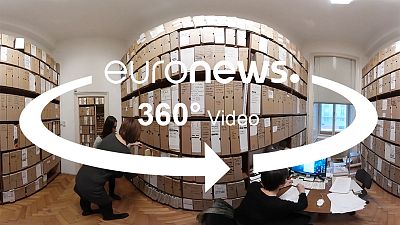 In an ordinary apartment in Budapest, Hungary, hanging is a painting that defied communist rule. Depicting public figures and symbols in the late 1960s. It was created by the artist Gyórgy Kemény in 1971. It is pop art in style and challenges the official Hungarian art of that period
The striking painting is among thousands of artworks showcased on a database built to preserve cultural material opposing communist dictatorships in Europe.
The Artpool archive is also contributing 150,000 photos, recordings, posters, books, letters and manuscripts to the database.
"Artpool is the biggest archive of this kind of material in Hungary, and probably in Eastern Europe and even Europe as a whole." Artpool Art Research Center Director Júlia Klaniczay stresses the importance of non-official artworks: "Without these documents, the art history memory concerning this period would be missing non-official events of this time. Things like exhibitions, performances and alternative live music concert will remain unknown if we don't preserve them".