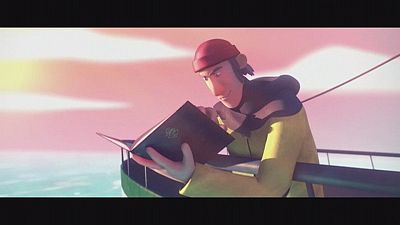 A new initiative aims to ease the suffering of the estimated 45-million people worldwide living with dementia.
Scientists are collaborating with professional gamers to use a new on-screen adventure in order to accelerate research for dementia treatment
They aim to get at least 100,000 normal people playing by the end of 2016 in order to gather the data needed.
Dr. Hugo Spiers is a neuroscientist at University College London (UCL): "In this game someone gets to play guiding a boat around in the water and so what we can do with the science is really see when they're touching the screen, we get feedback when they move the boat and the game logs those presses on the screen.
We can see and learn how well people are able to use maps, remember things they've passed, how well they're able to get sense of how far they've moved in the world"
Because dementia is a disease which robs people of their memories, they have based the story on an old man who is losing his memories.
Different brain areas are connected by a circuit which we use to navigate our way around. One particular area creates an internal map in our heads and it is this part of the brain that deteriorates first in people with dementia.
"The ability for tens of thousands of people to play this game actually means we are accelerating the research into dementia. So to be able to do the research in the lab could take hundreds of years to be able to capture the amount of data that we'll able to do using this game," believes Hilary Evans, chief executive at Alzheimer's Research UK.
An enormous amount of data is gathered in just two minutes of play. But obtaining these results from laboratory experiments by using MRI or CT scanners is time consuming, limited in numbers and expensive.
The answer according to scientists at UCL is to turn the world into a potential laboratory.