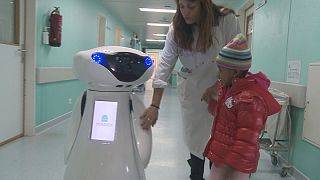 A robot named "Little Casper" has been designed to help children in hospital suffering from cancer. It is currently being tested at this hospital in Lisbon. Little Casper is just not an ordinary robot. He was built to perceive the environment and to interact with it.
We want children to establish the kind of relationship with this robot that they could have with a pet, or even a friend.
Casper plays and talks; sophisticated sensors, art imaging devices and navigation systems allow him to autonomously move around, recognising young patients and avoiding obstacles.
And doctors say he is doing a good job.
"From our point of view it is really worrying to see children using individual electronic gadgets," said paediatric oncologist Filomena Pereira. "This attitude often promotes among children hospitalised here a relationship towards technology based on solitude habits. I think a robot like this can promote a social interaction, a common interaction based on groups, with the use of this same technology."
Casper has been designed by researchers at a European research project aimed at studying how social robotics can engage in educational and entertainment activities in a paediatric infirmary.
And the challenges were huge according to scientists.
"Our first challenge was to find the right robotic platform," explained electrical and computer engineer João Silva Sequeira. "We needed a robot able to walk with a person, so its maximum speed can go up to around 2.5 meters per second.
"We also had to find a robot with the right appearance. We are dealing with children so we needed a cute robot. We interviewed around 100 children and we asked them what a robot should look like.
"And then another challenge was to develop the engineering concepts that the robot is equipped with. Casper must interact with the environment around, so he embeds some technological innovations. Innovations that have to also take into account social aspects. The robot has to perceive the social environment he is moving around in."
It was at this lab at the University of Lisbon that some of the robot´s systems were developed. Here, complex technology was mixed up with concepts from social sciences like Psychology to develop Casper´s perception infrastructure.
The ultimate aim is to basically ease human and robot interactions -in a smooth, constructive way.
"We try to trigger a positive reaction from them," said researcher in social robotics Víctor González Pacheco. "Doctors tell us that the happier these children are, the faster, the better they recover after treatment. So we want Casper to help children to have fun, to play with them. We want children to establish the kind of relationship with this robot that they could have with a pet, or even a friend.
Researchers hope Casper could become a real companion robot in other hospitals in Europe in less than three years.
@RoCKInChallenge#Monarch project: Robots Helping at Home and in #Hospitalshttps://t.co/gHzTDA1Ub6@DigitalAgendaEUpic.twitter.com/KIhFDQ7IqU

— ccyc (@C_C_y_C) October 25, 2015