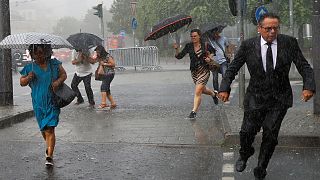 June temperatures were 0.4ºC above average globally.
The sea-ice cover was below the long-term average at both poles. The Svalbard archipelago saw unusual open waters at most of its shores.
Baltic countries and the British Isles were under pressure. Rain was scarce in June. Latvia declared a national drought emergency. Ireland issued a drought warning.
Meanwhile, southern Europe soaked under much above average precipitation. Floods affected Greece, Bulgaria and Romania.
Ireland and the United Kingdom faced blazing sunshine, with heatwaves continuing into July.
The UK MetOffice reported that temperatures in Britain matched or surpassed 28ºC for 16 consecutive days.